by Oren Peleg, Contributing Writer, Jewish Journal, September 7, 2016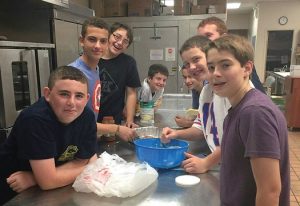 In Jewish communities today, the b'nai mitzvah ritual is seen as a culmination — graduating from adolescence to adulthood. There's a powerful ceremony, often followed by a lavish party.
Then what?
One organization hopes engaging teens, parents, teachers, clergy and their communities in honest, open-ended discussions about faith and adolescence will encourage sustained involvement long after that — and its mission just got a big boost.
Moving Traditions, a Jenkintown, Pa.-based organization specializing in Jewish youth engagement, was among the 12 recipients of this year's Cutting Edge Grants, given out by the Jewish Community Foundation of Los Angeles (JCFLA) and announced Aug.  16. It will receive $200,000 over the next three years to institute its pilot b'nai mitzvah program in Los Angeles, beginning this fall.