"For every child, there are three teachers: a parent, an educator, and a peer," counseled the 12th and 13th century rabbis who compiled Sefer Chasidim.
Moving Traditions' approach to educating Jewish preteens and teens is rooted in this multi-dimensional view of character development.
Our teen groups, Rosh Hodesh, Shevet, and Tzelem will challenge your teens to think critically about and apply Jewish wisdom to the issues that matter to them most, including academic stress, friendship, body image, and peer pressure.
Moving Traditions' programs fill an important need in teens' lives. Through supportive peers, an inspiring adult mentor, and of course your love and support as a parent, we aspire to empower your teen to grow into a healthy, successful, and connected Jewish adult.
The program is wonderful, and it is group leaders like Phil who help our teens move so gracefully from middle schoolers to high school almost-graduates while staying connected to their religion and culture, and becoming more thoughtful and introspective guys. THANK YOU!!

–Melissa, Shevet Parent, Westchester, NY
A Parent's Role in Moving Traditions Groups
As a parent or guardian, you can play an important role in ensuring the success of your teen's Rosh Hodesh, Shevet or Tzelem group. In many communities, mothers and fathers provide the glue that is needed to ensure that their teens' groups continue to meet.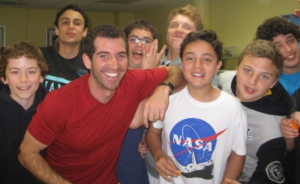 You can help your congregation or JCC (whichever is offering the program) recruit participants for Rosh Hodesh, Shevet and Tzelem by spreading the word to your friends with teens. (It's no secret that friends listen to friends!)
You can also help by hosting an introductory "Taste-of" session for other parents and teens. One parent built a group in a record-breaking 48 hours!
In the spring, check in with your child's group leader or the decision-maker at your congregation or JCC to let them know that you hope the group will continue in the following year. Research shows that the outcomes for your teen increase as they continue in their group for multiple years.
Parents have also helped find excellent group leaders and hosted special events for group participants outside of their formal meeting times.
Stay Informed
We are happy to share with you the latest research and tips to address the challenges your teen faces in their everyday lives.
To help you keep informed about the range of topics that come up in your teen's group throughout the year, subscribe to Moving Traditions emails, follow us on Facebook and Twitter, and visit our website for updates.
Building Safe, Supportive Spaces
Some parents ask: "Why is there such a concern about privacy in the Moving Traditions groups?"
Over the last decade, we have seen time and again how preteens and teens benefit from having a safe space where they can speak openly about the issues they care about most, including academic stress, friendship, body image, and peer pressure.
In their groups, participants react to provocative questions and share stories about their own experiences of what it is like to navigate today's world.
If your teen speaks with you about their group, please remember that they should not share with your personal information about other participants.  Rather, encourage them to speak in general terms.
If your child does not wish to speak with you in detail about what was discussed in the group, we hope that you'll respect their desire to keep things private.
We are thrilled that the tweens and teens in your life are participating in Moving Traditions' Rosh Hodesh, Shevet or Tzelem programs. We hope that it will not only be a great social experience, but it will inspire your child's intellectual, emotional, and spiritual growth.