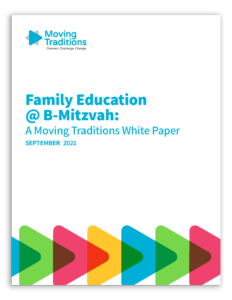 Moving Traditions has released Family Education @ B-Mitzvah, calling on the Jewish community to address the challenges facing Jewish preteens and parents today. Thank you for your support in helping us raise awareness about Moving Traditions' new and proven approach to Jewish preteen family education. Please feel free to use and personalize this social media and email content to spread the word to your networks as you feel appropriate. Questions about this resource? Contact us.
SOCIAL MEDIA
If you aren't already, please follow @MovingTraditions, and tag us in your posts on whichever platform you prefer:
General:
For participating partners:
For participating parents:
EMAIL/NEWSLETTERS
Feel free to copy and paste this announcement for your email outreach or newsletters. If you need additional content, please let us know.
Adolescence can be a difficult stage of life for many families, even more so now. To help address the often-challenging transition from childhood to the teen years, made even more stressful by the pandemic, Moving Traditions has recently released Family Education @ B-Mitzvah, which calls on the Jewish community to embrace a new framework for family education at adolescence. The approach suggests that by integrating Jewish wisdom with social-emotional learning, the Jewish community can provide support and a sense of belonging—which are needed more now than ever, as more preteens struggle with mental health and social isolation.
The publication shares key findings from implementing the Moving Traditions B-Mitzvah Family Education Program in partnership with 110 organizational partners, and includes a call to action informed by Moving Traditions' June 10, 2021 convening of 50 leading scholars, Jewish educators, activists, and funders.
I am/we are joining the call. To strengthen Jewish families and Jewish life, family education in the preteen years needs to become as normalized as family education for preschoolers. I invite you to join me: read more or contact Moving Traditions to learn how to bring the program to your community.
SHAREABLE GRAPHIC
Elevate your social media or newsletter content by pairing it with this downloadable graphic.
Download now!