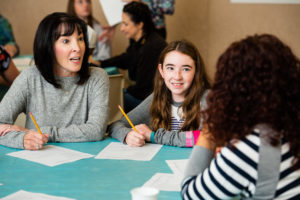 The Moving Traditions B–Mitzvah Family Education  Program
Becoming a teen is hard for preteens and for their parents, especially today, with current realities heightening the transition to this new stage of life. To support families when they most need support and while they are engaged in Jewish life, leading up to the b-mitzvah, we seek to make Jewish family education at adolescence as commonplace as it is for preschoolers.
Moving Traditions' approach to preteen Jewish family education inspires connection to Jewish community by centering on human development and the parent-child relationship.
Moving Traditions is at the forefront with the Moving Traditions B-Mitzvah Family Education Program, building the growing field. Our B–Mitzvah program enables clergy and Jewish educators in more than 110 communities to help preteens and families navigate this life stage by addressing the joys and challenges of becoming and parenting a teen.
Interactive family education sessions and preteen modules:
Frame the b–mitzvah experience as the process of "becoming a teen"
Foster dialogue between parents and preteens
Address the social-emotional needs of 6th and 7th graders
Draw on Jewish teachings and ritual to address current issues in the lives of families
It was nice to be reminded that other families share the same conflicts, and to learn some concrete solutions that are rooted in Jewish tradition. The family session was a good opportunity to start having meaningful conversations with my child.
Elements of the program include:
The Carol Lowenstein Moving Traditions B-Mitzvah Training Institute, a one-day experiential training that prepares rabbis, cantors, and educators to deliver the b-mitzvah program. In 2021, we will continue to hold our trainings online.
The extensive, field-tested curriculum for Moving Traditions B-Mitzvah Family Education Program, which contains exceptional family education programming and a series of experiential programs geared towards sixth and seventh graders.
Curriculum (password protected)
Listen to our podcast about b–mitzvah: @13