Moving Traditions, Keshet, and Congregation Har HaShem are excited to partner and bring you Tzelem for LGBTQ+, Nonbinary, and Gender Expansive teens Jewish teens in Boulder.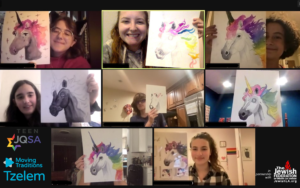 Tzelem offers a safe, supportive space to make new friends and explore issues like:
Life transitions
Healthy Relationships
Body Positivity
Self-Compassion
Mental Health
Jewish Identity
And much more!
Meetings from will take place at Congregation Har HaShem (3950 Baseline Rd, Boulder, CO 80303).
Meeting dates TBD
Group Leader: Michael Greschler
Michael Greschler grew up at Har Hashem: bar mitzvah, confirmation, IST, the works! He is so happy to have come full circle and be back in the Har Hashem community. In addition, he is a program director at an educational non-profit, leading the development of executive function curriculum and training. He also works as an educational specialist, using executive function strategy instruction to support teenagers and young adults. He is a frequent presenter at workshops, conferences, and webinars and has authored chapters and articles on topics related to executive function. In his free time, he enjoys hiking, cooking, ice cream, and over-ambitious arts and crafts projects.
For additional information about this program, please contact: Eve Berger at eberger@movingtraditions.org