Moving Traditions and Keshet are excited to partner and bring you Tzelem Online, a monthly group for Trans, Nonbinary, Gender Diverse, and Gender Questioning Jewish teens, around the country.
Tzelem offers a safe, supportive space to make new friends and explore issues like:
Life transitions
Healthy Relationships
Body Positivity
Self-Compassion
Mental Health
Jewish Identity
And much more!
For those who are familiar with Moving Traditions' Teen Groups, the group will draw on the best of those programs, except it will be online. Participants will get occasional fun packages in the mail with creative activities and supplies to use during the online sessions and to remind you of what you did together.
All interested teens in 8th -12th grade are encouraged to register.
This group meets monthly during the school year on Sundays from 4:00-5:30pm PST/5:00-6:30pm MST/6:00 – 7:30pm CST/7:00-8:30pm EST. The first session will be our "Taste of Tzelem Information Session" on October 22nd. To register for the information session, click the registration button below!
All interested teens in 8th -12th grade and their parents are encouraged to join us for the Taste of Tzelem virtual session on October 22 at 8:30 p.m. ET / 5:30 p.m. PT.
October 22
November 19
December 3
January 21
February 11
March 3
April 7
May 5
June 2
A $200 registration fee per participant helps Moving Traditions cover the costs of running Tzelem. We offer a sliding scale to ensure that all teens who want to join are able.
$80
$100
$150
$200 (full registration)
If you can not afford any of the above options, please indicate what you can pay and that will serve as your registration fee.
This program is run in partnership with Keshet.
For additional information about this program, please contact Alisha Pedowitz at apedowitz@movingtraditions.org.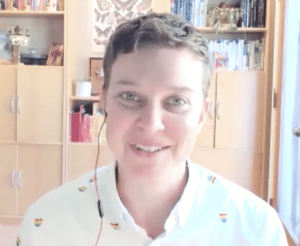 Group Leader: Reed Love
Reed Love (they/them) is a passionate teacher, spiritual counselor, and musician. They lead Moving Tradition's National Tzelem Group and the Tzelem B-Mitzvah Family Program. Reed has led Gender Spectrum's online support groups for LGBTQ+ teens living all over the world. With over fifteen years of experience across Jewish movements and interfaith settings, Reed completed their chaplaincy residency at St. Mary's Medical Center, where they focused on bringing yoga, music, and spirituality practices to the adolescent psychiatric ward. Reed is a hospice chaplain, certified massage therapist, and yoga teacher, and has had a spiritual counseling, life cycle facilitation, and bodywork private practice for the past decade. Reed received their Bachelor of Arts from Brandeis University in Women's and Gender Studies. They studied at Pardes in Jerusalem in a Year Fellowship Program and for two years at the Ziegler School of Rabbinic Studies. Reed completed a Masters in Judaic Studies, specializing in Jewish Values, Ethics and Action from the Academy of Jewish Religion of California. They have received several Jewish Innovation grants from Reconstructing Judaism, Clal, The Mintz Family Foundation, The Levinson Foundation, and The Jim Joseph Foundation. Reed lives in the San Francisco Bay Area with their partner Maggie.
Donate
Your gift to Moving Traditions emboldens Jewish youth to thrive through the pursuit of personal wellbeing (shleimut), caring relationships (hesed), and a Jewish and feminist vision of equity and justice (tzedek).