We are looking for Jewish teens like you to speak out on behalf of an important cause.
Moving Traditions, the parent organization of Rosh Hodesh: It's a Girl Thing! and Shevet Achim: The Brotherhood, is looking for two teen representatives from the United States to join us in Jerusalem. We will provide a free trip (flight and hotel) to two representatives, along with a parent of each, in January.
You've heard that Jewish women have been arrested at the Western Wall in Jerusalem for wearing tallitot, carrying the Torah, and giving voice to prayer.
You know that the Wall should be a place where all Jewish men and women – Orthodox, Reform, Conservative, Reconstructionist, or Independent – should be allowed to pray in full freedom.
Are you willing to travel to Jerusalem for a few days to play a role in this historic movement?
Here's what we need from you.
Tell a parent that you are willing to raise your voice and stand up for full religious freedom for all people at the Western Wall.
Make sure that your parent signs up here — by September 30 — to win the free trip. As part of signing up, we simply ask you to share a creative idea for a tweet in support of Women of the Wall.
When everyone has signed up, Moving Traditions will select the twenty most creative tweets from across the United States and ask the writers to make short videos in support of Women of the Wall. (For more information, visit Women of the Wall's website.)
Making Your Video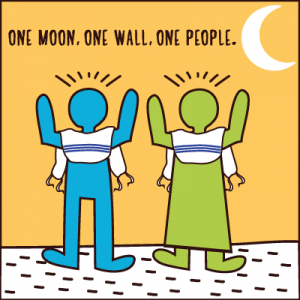 If your tweet is selected, we'll let you know that you are a finalist. All finalists will be asked to make videos that are under one minute in length. You can simply speak directly to the camera, read a statement, recite a poem, sing a song, create a visual poem, or use any other creative means to get your point across. There is no need for high-end production values or special effects; it's the message that counts. Also – we want this video to be in your voice. If you do want friends to be in your video, please contact us beforehand at info@movingtraditions.org
You can direct your words toward other teens, Israeli political leaders, leaders of the Jewish community, the Women of the Wall, or rabbis.
Some tips:
Make it personal by saying your first name and the place where you live.
Tell people about your experience in your Rosh Hodesh: It's a Girl Thing! or Shevet Achim: The Brotherhood group and how it led you to speak our against gender restrictions.
Say why you want to join Moving Traditions in supporting Women of the Wall.
You can tell the world why you care about this issue or share a vision for what the plaza in front of the Western Wall could be.
Once you have created your video, have a parent send the link to info@movingtraditions.org.
The best of these videos will be selected to be featured on Moving Traditions' website and then a group of judges will select the teens who have made the two best videos to win the trip to Israel!