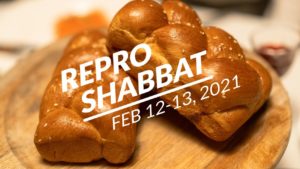 Moving Traditions is joining synagogues and Jewish organizations across the country to promote #ReproShabbat, a project of the National Council of Jewish Women. We are celebrating the critical importance of reproductive health access, rights, and justice, and we encourage youth educators and families to use the resources below to discuss this critical topic with teens.
Start by reading the powerful and brave firsthand account by Stephanie, a teen who shares her abortion story, and discuss. (From the NCJW ReproShabbat Collection We Testify: Abortion Stories.) Then explore the activities below, taken from Moving Traditions teen group curriculum.
From Storyteller: Stephanie Loraine
Location: Florida
When I was 17, I needed an abortion and was unable to tell my parents. Due to parental involvement laws in the state of Florida I was not able to get an abortion without the notification and presence of my parents. I was forced to seek out a judicial bypass, which is the process of having a judge decide the fate of your abortion… [After finding out I was pregnant,] I searched the internet for ways to end my own pregnancy. I read I could take 5000mg of vitamin C over 5 days. I considered throwing myself down the stairs. I even considered ending my life knowing a pregnancy would be the end of my future. That is how desperate I was. After days of calling, I finally got through to a hotline worker who connected me with an attorney who agreed to take my case pro-bono. I finally felt some relief. I spent the next 2 weeks working at my waitressing job, saving up my tips for my abortion, attending my college classes, and gathering all the documentation the attorney requested. I had an ultrasound, and I was forced to see it even though I didn't want to. I had to gather police records from the times my father was charged with child abuse after beating me and leaving me with bruises. I provided my school transcripts reflecting my dual enrollment course load. I even wrote an essay talking about why I desperately needed an abortion. I turned in all those papers to a judge in Duval County Florida who presided over my fate. Young people face a double-edged sword of stigma with their reproductive health care; if they continue their pregnancies they are unsupported and deemed irresponsible, and if they pursue an abortion we are stigmatized, forced to deal with laws that present barriers denying us our constitutional right to an abortion. Although I worked and studied since I was 13 years old to support my family, when it came to decisions about my body or my life I was told I was not capable of making my own decisions. My abortion was a means of survival and self-preservation for a future I wanted to live on my own terms.
Read more from Stephanie here, here and here.
Discussion Questions:
What are some of the reasons that a teen might not feel comfortable or safe approaching their parents about the need for an abortion?
How do you imagine Stephanie might have felt during the process of having to ask a judge for permission to obtain an abortion? What challenges do you imagine she might have faced in the process?
What do you make of Stephanie's statement that, though she has worked since she was 13, she was not empowered to make decisions about her own body? How do you think about her understanding of her abortion as an act of self-preservation?
Young people face extreme barriers to accessing abortion care, including, in many cases, forced parental involvement; greater challenges with finding transportation to care; waiting periods; limitations on their ability to obtain confidential care using family health insurance; and the inability to pay because of federal and state restrictions on abortion insurance coverage. What do you know and not know about your own rights in your reproductive and health care rights as a minor in your state? What changes do you think needs to be made so that more teens have rights to full bodily autonomy? What do you wish adults would understand about how to talk to teen about abortion, sex, and reproductive health?
Jews hold that the preservation of life, pikuach nefesh, is a central principle, one that overrides many other commandments. How is this principle reflected in Stephanie's story, particularly in the description of her abortion as a "means of survival and self-preservation?" Does this inform your view of abortion and the myriad reasons why one would need access to this care?
For discussion with older teens in Shevet, Rosh Hodesh, Tzelem, or mixed gender teen groups
On this sheet developed by Sex, Etc., invite teens to read the first couple of paragraphs and the quotes in yellow on both pages. Then discuss some of the following questions:
What was it like to read this? What surprised you? What upset you?
What arguments or points stand out to you on the "yes" side of the debate? The "no" side?
Do you think a guy should have a say in whether or not his pregnant girlfriend/or pregnant sexual partner has an abortion? Why or why not?
Should a guy offer to pay for a morning after pill or for an abortion? Should he pay all of the cost? Half of the cost? Why or why not?
Play this Kahooot quiz with your group or your family to test you knowledge about reproductive rights.
For discussion with middle schoolers or younger teens
If you have never talked about abortion with your middle school child or with your group of younger teens, one way to begin a conversation is by watching together this short animated video about abortion, and discussing the following questions:
Why do you think abortion is, as Sam described, such a big and complicated topic?
What questions or reactions do you have after watching the video? Share them out loud, in the chat (if you are on Zoom), or on a Jamboard or whiteboard.
Do you know what the abortion laws are in your state? How do you feel about them? If you don't know what they are, you can look them up in Sex in the States (sexetc.org) which offers guidance for teens on laws and policies around sexuality and reproductive rights, by state.
If your Moving Traditions Teen Group or your family is interested in learning more about Jewish approaches to reproductive justice and rights, please see the complete ReproShabbat Toolkit from NCJW and the Sefaria sourcesheet created by Rabbi Danya Ruttenberg.