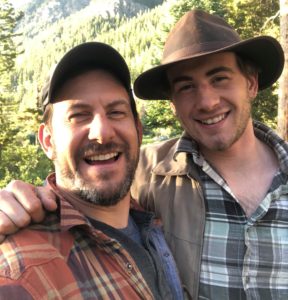 As you may know, Moving Traditions trains adults to mentor teens in our groups for teen girls (Rosh Hodesh), teen boys (Shevet), and trans and nonbinary teens (Tzelem).
We train as teen mentors rabbis and cantors, Jewish educators, and people from a variety of walks of life who care about Jewish teens, including secular educators, artists, social workers, and even a rocket scientist.
This August we are going to train Tal Arnold, 24, who has signed up to lead a Moving Traditions Shevet group for teen boys at Congregation Beth Evergreen in Denver, CO.
An acting instructor and director, Tal is following in the footsteps of both of his parents, Marti Arnold, who led Rosh Hodesh groups and Rabbi Jamie Arnold, who led Shevet groups. This makes Tal the first, second-generation Moving Traditions group leader in our history.
Tal's earliest memories of Moving Traditions are the times each month he and his siblings were not allowed to go into the basement when his mother, Marti, was leading a Rosh Hodesh group. The girls needed privacy for their conversations and activities.
"After the monthly meeting," recalled Tal, "my siblings and I would go downstairs and see the remnants of their cool projects and we wished we could be a part of it."
Now, Tal is finally getting his chance. His Shevet training experience will reflect both the enduring elements of Moving Traditions' programming, and the significant updates that we have made to address teens' changing and ever-more challenging world.
Back in 2005, Marti also attended a two-day training in Denver that prepared her to facilitate Rosh Hodesh so that she could engage teens in activities that fostered their self-discovery, helped them recognize and challenge sexism, and inspired them to build lifelong connections to Jewish community.
Now, in 2019, Tal and other new group leaders will be prepared by Moving Traditions to lead discussions about topics that didn't even exist when Marti started as a group leader, about social media, the #MeToo movement, and expanding notions of gender.
Looking back, Marti recalls how inspiring the teens found it to be in a safe, Jewish space, and how empowering it was for them to explore topics such as sex, drugs, their changing bodies, and relationships.
"We just gave the girls the opportunity to blossom into themselves," Marti said, "to know who they are and to feel great about it."
Meanwhile, Tal is looking forward to guiding this new generation of teen boys in their own challenging conversations.
"I'm happy to be carrying the torch forward," said Tal. "I'm excited to explore such topics as masculinity, technology, and aggression. I want these teen boys to see how relevant Judaism can be in their lives today."
Click here if you or someone you know would make a great mentor for teens.