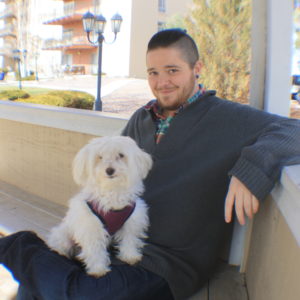 Rafi Daugherty is an out-and-proud queer, Jewish, transgender man who lives in Denver with his toddler and their two pets (a dog and a cat).
Rafi's work history is colorful and varied, including many years working with adults and children with developmental disabilities, working as an Emergency Medical Technician in New York, serving the homeless youth population of Harlem, and organizing as a regional manager for Keshet, where he did LGBTQ Jewish inclusion work.
These days Rafi is studying Couples and Family Therapy at the University of Colorado at Denver organizing Jewish queer events (including the largest Queer Seder in the world), and is the Director of Camper Care at Camp Ramah in the Rockies. He is thrilled to be working as a consultant for Moving Traditions, helping to create and lead a non-binary version of their groundbreaking Rosh Hodesh and Shevet Achim programs. He looks forward to seeing this material come to life through the online group(s) that will begin in the fall.