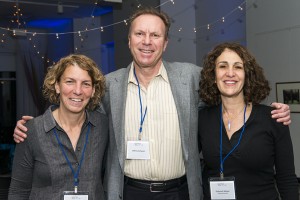 Moving Traditions' Benefit in honor of Jeffrey Schwarz was held on Thursday, April 3, 2014 in New York. People were in high spirits at our "Table-less Tisch" where we enjoyed the shared experience of singing a niggun, story-telling, and words of torah. Together, we raised just over $212,000 to support Moving Traditions work.
Click here for more pictures from the event.
The importance of mentors
At the benefit we were given a taste of the experience Moving Traditions uses to train men to mentor Jewish teen boys in Moving Traditions' program, Shevet Achim: The Brotherhood.
To prepare our adult mentors to engage Jewish teen boys, Moving Traditions holds a three-day training and draws on a Chassidic model for the evening activity of the second night – the tisch. The tisch was centered on the teaching of the rebbe. When the rebbe was absent, men still gathered, and they called this gathering "shevet achim." In both, there is a fusion of the social and the spiritual. Stories are told – but more importantly, stories are listened to and given time to sink in. There is room for a range of emotion through songs both slow and raucous. And perhaps most vital, there is a sense of genuine interconnectedness – as eyes meet, as we feel and laugh and eat and drink, and celebrate together.

According to the research and to Moving Traditions experience with teens in our programs, in addition to their parents, teens need adult mentors to guide them as they make their  journey through the challenges of adolescence and into adulthood.
Moving Traditions trains mentors to lead our programs Rosh Hodesh: It's a Girl Thing! and Shevet Achim: The Brotherhood — inspiring thousands of teens to explore the central questions of their lives, such as "What does it mean to be a man?" "What does it mean to be a woman?" and "What does it mean to be true to myself?" Through an ongoing intimate group of peers and a committed mentor, teens in our programs feel supported by Jewish community as they begin to understand and tackle the social pressures that weigh on them as girls and boys and learn how Jewish values fit into their challenging everyday lives.
Hear the niggun sung at the benefit.
Jeffrey Schwarz' Speech
I came of age too late to participate in the Freedom Rides and the voter registration drives that were part of the Civil Rights movement in the early-mid 1960s. I like to think — or at the very least hope — that if I could have participated I would have be brave enough to do so. Eliza, when the question was asked, "Who will stand together with the Women of the Wall?" to ensure that all Jews-women as well as men will have free, equal and unfettered access to Judaism's most sacred spot, you courageously answered the challenge that Moving Traditions posed through its "One Moon, One Wall, One People" campaign and said, "Hineni." (Here I am.)
Eliza, I commend you as well as Lucy and Alexandra — your fellow traveling companions and Rosh Hodesh participants for your bravery and commitment to fighting injustice.
I want to thank everyone for coming out tonight to support Moving Traditions, an organization near and dear to my heart. I thought what might be useful would be for me to give you a sense of where I come from/the journey I've been on and why I think Moving Traditions and the work it does is so important.
I was born in 1958 and it would be 5 years till Betty Friedan published the Feminine Mystique, and Dr. Martin Luther King, Jr. delivered his "I Have a Dream" speech on the steps of the Lincoln Memorial. It would then be an additional six years until the Stonewall riots which many would say marked the beginning of the gay liberation movement.
I grew up in the 60s/early 70s in the gilded ghetto of Great Neck, NY where change came at a glacial pace. My folks — Marion and Sherwood Schwarz, who are here tonight –were/are terrific parents, but they came from a time when there were separate and very distinct gender roles. My father was the breadwinner — commuting to/from the city every day; my mother the ideal homemaker. I was raised to be a man in the way that it was then understood. As an example, I remember when I was very young once trying on my mother's high heels. When my father saw me doing that he made quite clear that was something that was not going to happen again!
What I learned was that there were numerous do's and don'ts to being a man:
Don't cry.
Don't be in touch with your feelings.
And definitely don't ever wear heels!
Do be responsible, loyal to your friends, and most importantly, be someone who protects his family and supports them financially.
As I grew up, I learned about business from my father and later from my professors at college — all of whom were men; and where I also joined a fraternity. When I finally entered the work world I was 100% a product of the Patriarchy. And unlike my father and grandfathers before me, I had the added bonus of entering adulthood at a time when Jews — as noted by Karen Brodkin — had become White Folk. White, Ivy-league educated men in America were the consummate insiders and that was the prism through which I viewed the world.
However, in my 30s I began to encounter more diversity in my life. I joined the board of CLAL where I met Rabbi Benay Lappe who was on their faculty. Benay was an out lesbian who had gone back into the closet in order to attend rabbinical school. At that point in time JTS would not ordain gays or lesbians. I began to learn Talmud weekly with Benay, and also learned much more than Talmud. I saw the pain she experienced being treated as an outsider by the Jewish people.  She also helped me understand that not only did SHE suffer, but the entire community suffered by cutting itself off from the insights offered by those who have an entirely different set of experiences and who — because of that — could bring alternate perspectives to the communal conversation.
Another learning opportunity for me came at a gathering called the Conference for Change convened by the Schusterman Foundation. The focus of the conference was on how to make the Jewish community more inclusive. I heard how something as simple as a panel being comprised solely of white men could cause women or people of color to tune-out; to feel that their concerns would not be represented by the panelists. It was eye-opening to understand how that which might be viewed as innocuous by an insider could simultaneously be seen as so off-putting by a person who feels like an outsider. Since that time I have followed the advice of my friend Shifra Bronznick in declining any invitation to be on a panel that does not include at least one woman.
In my professional life I saw firsthand how the door to entry into the upper echelon of the investment business was mostly closed to women. When Karen Finerman — who is my business partner — and I would attend conferences and events Karen would often be the only woman in the room. We made the decision that our firm would proactively attempt to recruit women candidates and would have policies that encourage working parents — both mothers and fathers — to balance personal and professional obligations. I am happy to say that before too long I was the token white, Jewish male at Metropolitan Capital.
And yet, this effort of trying to see the world through the eyes of "the Other" remains an ongoing process for me. Although for quite a while I have thought of myself as a Feminist-ally, there still were issues and concerns which I could not comprehend.
Here is an example — the fact that in the traditional liturgy references to God have always been in the masculine — Lord, King, Father — has been a hot-button issue for my dear friend, Sally Gottesman — Moving Traditions' Chair and Co-Founder. For years I simply did not get her concern. Clearly an incorporeal God is neither masculine nor feminine.
This year at High Holiday services, Shira Kline, who was leading the davening, sang a song I wasn't familiar with. Here are the lyrics from the first stanza:
Sweet mother I'm coming home
Now I know I'm not alone
Cause I've been far
Now I'm close
Sweet mother I'm coming home
At the time I thought, nice song, but it didn't have any particular resonance for me. My parents live upstairs in the same apartment building I live in — I see my mother a couple of times a week. I thought, maybe this song is really targeted at a person who has moved far away from their family. Later in the day as I was walking home from shul it finally dawn on me that the "mother" referred to in the lyric was actually "God as mother." That had initially not even registered for me as a possible interpretation. Only then did I understand why the notion of gender in God-language was so important — it actually affects how the person hearing it understands the liturgy.
I have come to see that each of us has the best chance of living a fulfilled life if we are not shoe-horned into boxes based upon our gender, sexual orientation or any other societal conventions. As importantly, I have also come to believe that the Jewish community and broader American society will be far better off if they can benefit from the unique perspectives and insights that each of us bring. These are aspirations that inform Moving Traditions work.
Sadly, it is easier said than done. Facebook, Twitter, and other forms of social networking are omnipresent. They pose a particular challenge during adolescence — a highly stressful, dare I say dangerous, time of uncertainty and insecurity for boys and girls as they try to figure out what it means to become men and women in 21st century America. There is tremendous pressure to conform to the expectations of their peers and to the messages they are receiving from the culture-at-large. Moving Traditions tries to bring Jewish wisdom and values to the conversation to help young people navigate these treacherous waters, and in so doing to give them the self-confidence to be who they are.
Well, now, for some thank you's — but I promise not to have this become a version of an Oscar acceptance speech:
My first thank you is to my son Ben, who is the best son any parent could hope to have.
And to tonight's benefit chairs-in alphabetical order:
Rabbi/Doctor David Ellenson
A preeminent scholar of 19th century Orthodox Responsa, I first met David the summer of 2001 when he was my teacher at the Hartman Institute in Jerusalem. Soon thereafter he was appointed President of the Hebrew Union College/Jewish Institute of Religion and moved to New York with his lovely wife, Rabbi Jackie Ellenson (btw, a former Moving Traditions honoree) and their wonderful children. After 12 years, David has recently completed a most successful tenure as President of HUC-JIR, leaving a much strengthened institution positioned to train rabbis, cantors and educators for the liberal Jewish world.
Karen Finerman
My friend of more than 30 years and my business partner for more than 20. Not only does Karen run a successful hedge fund, but she is fully present in the lives of her two sets of twins, a regular on CNBC's program Fast Money, and I consider her to be the east coast's version of Sheryl Sandberg speaking to and advising women's groups.
Joel Greenblatt
My friend of nearly fifty years is widely acknowledged as one of the best investors of our generation, but he is far more than that. Joel is completely committed to the notion that America must be a land of equal opportunity and the only way for that to happen is for the education system in this country to be fixed. Therefore, in 2006 Joel helped found the Success Academy network which come this September will have 32 schools serving 10,000 children across New York City. And this is all while he and his wife Julie have raised 5 terrific children.
And of course my wife Wendy, who is a partner with me in all I do. As she doesn't allow me to refer to our children as perfect I will simply say that after having raised two "nearly perfect" children Wendy has focused her energies on education as a volunteer tutor of underprivileged youngsters, as well as working on nutrition issues trying to teach children how to eat more healthfully.
Lastly, I want to thank my friends Sally Gottesman, Moving Traditions' Co-Founder and Board Chair and Deborah Meyer, Co-Founder and Executive Director for giving me the opportunity to get involved with this terrific organization!