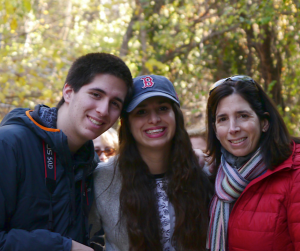 I have two kids; Hannah who is now 21 and a senior in college, and Jacob, 18, who is a senior in high school. Both of my children were fortunate to have participated in Moving Traditions' groups. Hannah belonged to a Rosh Hodesh group that started as a lunch bunch at The Rashi School in 7th grade and then went on to be a part of a girl's group at Gann Academy in 9th grade. Jacob began with Shevet  a year after his bar mitzvah and was part of a very strong cohort of boys from Temple Emanuel where he had also attended nursery school as a tot.
For both of my children, these groups were invaluable to their personal identities. Their respective groups provided a safe haven from the drama of cliques and their day-to-day lives. The issues discussed in their groups ran the gamut: from body image and friendship and family, to competition and stress and everything in between. All of these topics were thoughtfully talked about through a Jewish lens. I like to tell people that my kids received a special brand of Menschlichkeit training. In Jacob's own words, "I really liked the brotherhood and the community it provided for me to discuss relevant issues with similar Jewish teenagers."
I truly believe in the work Moving Traditions is doing, because it is the only organization out there that helps teens navigate the challenges of adolescence through a Jewish lens.
Through the help of generous donors, Moving Traditions invests in materials and training so that group leaders are well equipped to help mentor teens and meet them where they are.
The Rosh Hodesh and Shevet groups are not just groups but communities where kids feel understood, safe, and supported as young Jewish adults.
Please, donate today.