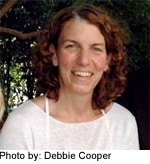 Sally Gottesman is the Founding Chair of Moving Traditions. As founder and President of the eleemosynary group, she is an independent consultant to non-profit organizations based in New York City. Gottesman serves on the boards of American Jewish World Service, Bikkurim, and American Friends of Yedid. 
Moving Traditions spoke with Gottesman about the importance of gender in Judaism, changes she'd like to see in Jewish life, and her commitment to Judaism.
What inspired you to found Moving Traditions?
Gottesman: I wanted to build an organization that would bring together people who are thinking about how Judaism influences Jewish women and men to express – or limit – their full humanity, based upon their gender.
My hope is to make Judaism stronger and more vibrant for our own and future generations, and to help Jewish girls and boys, men and women live more fulfilling lives.
I was interested in doing this outside the confines of any one particular denomination.  Denominations, like gender, are simply one lens, or construct, through which we can view the Jewish community. These lenses are important, which is why I wanted to have Board members from all denominations at the core of Moving Traditions. The glasses I want people to wear when they are working at our table are their gender lenses.
What impact do you hope Moving Traditions will have on Judaism?
Gottesman: I hope that Moving Traditions will enhance Judaism and the Jewish community, that it will be a force for good in the lives of Jewish women and men, and that this will lead to increased tikkun olam (justice) in our world. And the truth is, I am very hopeful about this. Danny Boyarin, who teaches at University of California at Berkeley and whose class, "Introducing Gender Into The Talmud" I attended at the Jewish Theological Seminary, said that the fundamental shift in Judaism over the last century was not that women started to study Judaism, but that women and men started to study Judaism together. I agree and think we are just on the cusp of this change.
My goal is for Moving Traditions to take the new ideas generated by women and men studying together and to disseminate these ideas throughout our community, enhancing Judaism and Jews.
What changes do you hope to see in Judaism and in people's lives over the next two decades as a result of Moving Traditions' work?
Gottesman: My vision is that we will have trained a generation of Jews to use both male and female God language in Hebrew and English so that women and men both really see one another in God's image. In turn, this will enable men and women to play new roles in both public and private realms. But this will take more than two decades.
In 20 years I think we will have made a significant impact on what girls expect when they reach bat mitzvah age. I hope that 11 year-old girls will look at their mothers quizzically and ask, "Why didn't you join a Rosh Hodesh: It's a Girl Thing! group when you had a bat mitzvah?" This is what has happened now with bat mitzvah itself – teens today have no idea that one generation ago bat mitzvah was a new thing – so I believe it is entirely possible to create this kind of change.
I also think that these 20 years will be critical with regard to keeping women and men engaged in Judaism together. In most professions, when women enter in large numbers, men leave. When women enter the rabbinate in large numbers, will men leave it? I hope that Moving Traditions' work will keep boys engaged in Judaism in ways that will lead to the parity of men and women in the rabbinate.
Why does Judaism need to be changed, and how will an understanding of gender contribute to that change?
Gottesman: Gender has been central to Judaism from the start. Just look at the two creation stories in the Bible (in one, woman and man are created together from dust; in the other, woman is created from man's rib); at the Talmud's Tractate Nashim [women] (which focuses on marriage, divorce, and the relationship between men and women); or at medieval responsa on marriage (which are critical to the abolishment of polygamy). These three texts show how an understanding of gender has long been critical to Jewish life and how Judaism has long been in the process of change.
I believe contemporary understandings of gender will change Judaism in ways we can't entirely predict. These changes will help more people find Judaism to be a source of meaning in their lives.
I should add on other thing because I have always been interested in how human beings think about God. We tend to anthropomorphize God. Jews do it all the time when we call God a King or a Ruler. As Rabbi Daniel Brenner pointed out to me, we are now in a new historical period where a person can be born a woman and end life as a man, or vice versa. This begs the question, how we can think about God remaining fixed in one gender or another?
Why is it important to include men in Moving Traditions' work?
Gottesman: "Gender" includes men and women, the same way that "race" includes black and white people; although as white person I am in the privileged position to forget this. One of the fundamental qualities of change is that you cannot change one thing without affecting another. You can't change women in Judaism without impacting men's role in Judaism. It is critical that men and women work on this project together.
I believe that because we have had men and women involved in Moving Traditions from the start, our organization and the work we do will be compelling and effective.
How does the composition of the Moving Traditions Board reflect your commitment to men and women and to Jews of all practices and affiliations?
Gottesman: Our Board consists of Jews who are affiliated and Jews who aren't, Jews by choice, men and women, people who are wealthy and people who are not. We want all of these voices to be heard at the table. We need to reach the entire Jewish community if we are to be successful in our work.  Personally, I think our Board members who don't belong to a synagogue ask some of the best questions when we are thinking about our strategic vision.
When did you personally begin to understand the importance of gender in Judaism and in life in general?
Gottesman:  I was young. In fourth grade, my parents sent me to Orthodox day school in New Jersey, although we belonged to a Conservative synagogue. At the day school, the first thing I learned was that girls couldn't wear pants – this was a major imposition in the 1970s!  By sixth grade, boys and girls were praying separately and boys were studying Talmud while girls were studying Tanach. I did – and did not — understand why the boys got to do so much more than the girls. On one hand, it was unfair. On the other hand, it made sense to me: men wrote all the texts we were reading, and the boys appeared to be given the privileged position to study them.
What gave you the sense that you could do something about this?
Gottesman:  I was the only child in our Conservative Synagogue attending day school, and therefore I was the most learned twelve year old – girl or boy – around. Our rabbi, Rabbi Jeshaia Schnitzer, z"l, was looking for a test case to have a Saturday morning bat mitzvah. His intervention, my parents' influence, the feminist movement at large, and my actions all led to my becoming the first Saturday morning bat mitzvah at our synagogue. This showed me that I could play a role in creating change. One set of my grandparents also helped to create the day school I went to. Jewish history, I realized, was something that people made happen.
I think this is even more true 32 years later. After all, look at Moving Traditions. We are a relatively new organization and Rosh Hodesh: It's a Girl Thing! has already directly impacted over 3,500 girls and has had a ripple effect on teachers of thousands more girls and boys.
What are Moving Traditions' most pressing goals and contributions today?
Gottesman: One of the key things Moving Traditions is doing now is discussing how to effectively create change. We are still a young organization in the not-for-profit lifecycle, so this is an appropriate strategic question to be asking.
At the same time, we are leveraging our good name and reputation to influence others to create change. For example, with Moving Traditions' new project, Where Have all the Young Men Gone?, one of our goals is to help organizations across North American respond to the needs of Jewish boys and men. We're not raising the issue nor creating the issue. We are, however, the only organization studying the issue broadly in the hope of helping many types of organizations, including schools, camps, synagogue youth groups. As the premier organization where the conversation between gender and Judaism is happening, Moving Traditions is acting upon an issue people knew had to be discussed but no organization was taking upon themselves.
We also have several other ideas about how to further our mission, some of which involve children, others adults, but we believe it is important to get each major program to a certain secure place in its lifecycle before we embark on the next major initiative.
It is, if I can say so, very exciting