Wednesday, March 28, 2018, 7:30 – 9:00 p.m.
Temple Beth Shalom
670 Highland Ave, Needham, MA 02494
Please join us for a dynamic evening focused on the challenges of raising healthy, modern Jewish teens.
Moving Traditions' Chief of Education and Program, Rabbi Daniel Brenner will lead an exploration of some of the major pressures and issues (anxiety, conflict with authority, social media, etc.) facing Jewish teens today — and how the Jewish community can respond. Parents of pre-teens and teens, educators, teen clinicians, and other youth professionals are welcome!
For more information contact Laura Hyman, Boston Director.
Registration is now closed.
About the Facilitator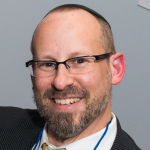 Rabbi Daniel Brenner helps Jewish communities address the spiritual and developmental needs of pre-teens and teens. Daniel creates teen-focused mentoring programs that bring together psychological approaches based on social-emotional learning with spiritual approaches that focus on ritual, myth, community-building, and ethical responsibility. Daniel gave an Eli Talk about Baboons, Bonobos, and Bar Mitzvah Boys. To find out more about that talk and watch the video, click here.
For Daniel's reflections on the role of Jewish education in the wake of #metoo, click here.