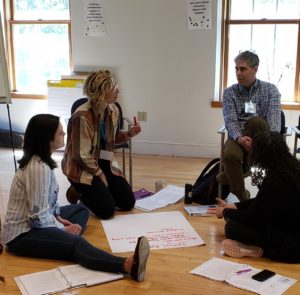 We envision a world where every camp counselor or camp staff member can
Challenge the use of sexist language by campers or colleagues
Model consensual touch that is supportive, playful, comforting, and respectful
Help turn down pressure around crushes, romance, and hook-ups
Navigate questions about appropriate and inappropriate dress without shaming others
Create inclusive communities that support diverse expressions of gender and sexuality
Communicate camp policy clearly by reinforcing the values that underlie camp policy
Moving Traditions Resources for Camp Staff 2022
This year, Moving Traditions is focusing on two separate but related aspects of camp culture – how gender is navigated at camp and how healthy boundaries are communicated. We will be offering the following opportunities to explore these issues:
Healthy Boundaries at Camp 
This year Moving Traditions is offering a Camp Partner-Full Access Pass to our staff training materials, which includes an extensive set of field-tested train-the-trainer and video resources that focus on reducing sexual and verbal harassment, teaching consent, and fostering a healthy and respectful camp culture. Camps that partner with us for the summer of 2022 will be invited to participate in our pre-camp online training Hugs, Hook-ups, and Harassment – Setting Healthy Boundaries at Camp, a webinar for all camp staff. 10 registrations are included in the Camp Partner-Full Access Pass. Additional registrations are $36 per person. Registration information will be sent upon completion of the application and partner agreement.
Hugs, Hook-ups, and Harassment – Setting Healthy Boundaries at Camp

June 1, 11:00 a.m.-12:15 p.m. PT / 2:00 p.m.-3:15 p.m. ET
Moving Traditions greatly appreciates the following Foundations who are among the supporters of the important work of CultureShift



Jewish Women's Fund of the Greater Palm Beaches (JWF)
The Lasko Family Foundation
SRE Network