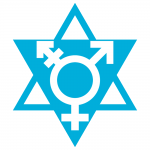 Moving Traditions has created a first-of-its-kind online group for Jewish teens who identify as transgender, nonbinary, or gender questioning.
Like Rosh Hodesh and Shevet Achim, Moving Traditions' program for trans/non-binary Jewish teens—offered in partnership with Keshet—will meet monthly, and sessions will focus on topics relevant to today's teens through a Jewish lens. The group offers a safe space where these teens can find support from peers and a place for themselves, within Judaism.
Because we want to have a critical mass of teen for this group, we are launching it as our first online group and plan to use video conferencing technology. Participants will also receive periodic fun packages in the mail to use during the sessions and beyond.
Facilitated by Rafi Daughtry, an adult transgender mentor who has experience finding a place within Judaism for himself—and who has traveled the adolescent and young adult journey toward wholeness and joy—the program combines new content with elements of Rosh Hodesh and Shevet Achim and will feature discussion on topics including courage, self-esteem, stress, body image, friendship, family, Jewish identity, and more.
Each 90-minute videoconference session will include discussion, games, and other activities.
Registration for Fall 2018 will open on June 1.
For additional questions, email Rabbi Tamara Cohen, Chief of Innovation at tcohen@movingtraditions.org.
If you know a teen who is no longer in high school but would be interested in contributing to the success of this group by sharing their ideas and an advisor, they should email Rafi at rdaugherty@movingtraditions.org.