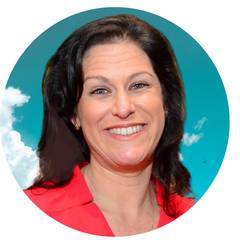 Bethany Leinweber is the Director of Youth Education, Outreach & Engagement at Temple Sinai in Sarasota, FL. She has been with Temple Sinai since 2006 first founding the Gan Preschool Program and eventually transitioning into her current position. In 2020, outreach and engagement was added to her portfolio.
Stephanie Freedman, Education Program Manager, interviewed Bethany for our newsletter.
Stephanie: Why did you become a Jewish Educator?
Bethany: I've been teaching Sunday School since I was a teenager. As a young person, I loved everything about Hebrew school. In the middle of high school, we moved from Baltimore to Sarasota, and I asked my mom to find a new program so I could finish my diploma that I had begun at Baltimore Hebrew University. I feel very emotionally connected to being a Jewish educator; it is a blessing or calling.
S: What do you love about what you do?
B: I love that the work helps keep the Jewish community vibrant, ensuring the continuity of the community. I love watching young people become knowledgeable and proud Jews.
S: What are some of the opportunities in your community?
B: In our part of Florida, there is a lot of anti-Semitism, including the Proud Boys. The anti-Semitism stems from ignorance and a fear of differences. Many of us working in synagogues here feel this is part of our mission, to educate people, and particularly youth, to make sure they understand how important it is to stand up for themselves and our people.
S: What are some of the challenges in your community?
B: The biggest challenge is getting parents to prioritize their child's Jewish education over sports and theater – not that those are bad things! Another challenge is the whole membership idea. For several of our teens, their parents don't want to pay membership fees after B'nai Mitzvah. So, we created a teen membership category.
S: Why did you decide to bring Moving Traditions to your community?
B: During the pandemic, I had a lot of time to research. I kept hearing about Moving Traditions, and then I met Sarah (Fox, Director of Field Services), who guided me through all the offerings. I knew Moving Traditions' curriculum would be a good fit for us because it embraces social emotional growth and is very current. Personally, I also love the idea of separate spaces for different genders. Being someone who connects and relates as a woman, I need my "girls." It reminds me a little of sleepaway camp – there is so much that happens in your cabin with your friends, so many rich moments.
S: What programs of Moving Traditions do you offer in your community?
B: We offer the B'nai Mitzvah program, Rosh Hodesh, and Shevet.
S: How have these programs impacted the youth, their families, and your community?
B: What stands out to me is that the B'nai Mitzvah program forced parents to get involved! We did all four family programs with each grade. Kids would LOVE it when they did the B'nai Mitzvah sessions in class – they did not want to miss it. The material, structure, content, etc., are all just so engaging.
With Rosh Hodesh, the new rabbi cofacilitated the group, allowing her to engage more directly with the girls and get to know them. The girls bonded with each other in ways they hadn't been able to before.
With Shevet, the boys gave each other nicknames and paper plate awards at the end of the year. Both of my boys were in the group. They would always resist going, but after every session they were always glad they had gone.
S: How did the Moving Traditions training impact the implementation of your programs?
B: I attended both the B'nai Mitzvah and the Teen Groups national trainings. Even though I am an experienced educator, I got a lot out of both trainings. There were things I didn't know that were really helpful, especially as I led the family sessions. I also attended advanced trainings (like How to Connect and B'nai Mitzvah Lost and Found), and I found them so helpful.
S: What do you like most about being Jewish, other than being a Jewish educator? What Jewish things do you do on a regular basis?
B: I feel special being Jewish. Having the Torah to guide us, teach us and help us is really meaningful to me. I love how our community bonds and carries each other (especially during this pandemic) – it's really awesome. Here in Sarasota, we are small but mighty.
As a family, we try to do Shabbat once a month and celebrate all the holidays. Mostly we celebrate them with our Temple family, but sometimes we celebrate with the Federation.
S: What do you like to do in your spare time?
B: What free time?! But seriously, it's so important to me to make time for my family and friends, to make time to go out to eat, maybe have the occasional drink. We are building a pool, so I am looking forward to sitting by the pool and enjoying myself! I love to watch Netflix and movies, and I have two elderly dogs who take up a lot of time and energy!
I also created an incredible educational initiative called "Impact Theater." It's an intergenerational program for teens and the elderly from the African American and Jewish communities The Jewish teens connect with the African American elders, and the African American teens connect with the Jewish elders. The teens then create a theater piece to share what they learned from their interactions.