We asked three girls from a group in Los Angeles to write about the impact of the Rosh Hodesh program on their lives. Here are their responses:
Lena K – 12th grader at Wildwood School, Los Angeles, CA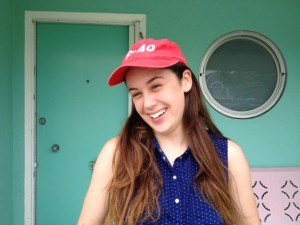 Rosh Hodesh has been the most provoking and emotionally supportive thing I've ever experienced. Both Shiras are different in terms of their contributions and similar in terms of sharing invaluable wisdom. The group feels like a safe haven, a space to speak the raw truth no matter how scary it feels or hard it is to accept. The material provided is revolutionary and unlike any other Jewish educational content I've been exposed to. I sincerely believe my adolescence would have been a lot more difficult if it wasn't for this group. I probably would have been lost in insecurities and immaturity for a lot longer. I feel empowered and grounded and deeply connected to myself after every Rosh Hodesh meeting. What has been given to me through the group has been infinitely valuable. And I am immeasurably grateful.
Gabby L – 12th grader at Archer School For Girls, Los Angeles, CA
Rosh Hodesh is, in all honesty, the most incredible and life-changing experience I think could have possibly happened to me. Our group, made up of a random assortment of girls who would normally never talk to each other, who have such different lives and opinions and personalities, is the most nonjudgmental and welcoming crowd that I have ever known. Every time we meet, I come anticipating a fun, relaxing, and thought-provoking evening, and I am never disappointed: I always leave feeling refreshed, renewed, and ready to face whatever comes my way. It has helped me become a less judgmental, more open-minded leader, and it has introduced me to ideas and experiences that I would otherwise never have encountered. Without Rosh Hodesh, I hate to think of how different my life would be; every girl in our group offers such great insight and understanding towards whatever teenage predicament I happen to have found myself in, and I am proud and humbled to say that I try to do the same for each of them. I am so lucky to have a group like ours that has made such a huge impact on me as a person.
Elana R – 12th grader at Pacific Palisades High School, Los Angeles, CA
Rosh Hodesh has constantly provided a place for me to be honest and open not only about my life, but also my spirituality. It is not only the one place I can speak free of judgment, but also where I learned to listen free of judgment. Being in Rosh Hodesh has allowed me to the opportunity to bond with girls incredibly different from myself and discover new points of view which wouldn't cross my path in any other situation. Without Rosh Hodesh, I wouldn't have had a home, a place to check in, to reevaluate who I am, my dreams, and my values. Every month when we meet, I get to clear my mind, and prepare for the following month focused and prepared for the coming weeks. I love Rosh Hodesh, it is one of the most important Jewish connections I have, one that I cherish and need as a part of my life.