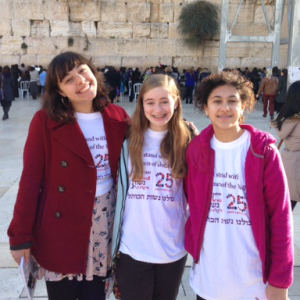 On January 2, 2014, three young women representing Moving Traditions stood up for religious freedom by praying with Women of the Wall at the Kotel (Western Wall) in Jerusalem. Read more about this project in Times of Israel and Haaretz.
For full media coverage, click here.
The three teens, Eliza Moss-Horwitz, 16, from Congregation B'nai Israel, Florence, MA, Lucy Sattler, 15 from Beth Emet The Free Synagogue Evanston, IL, and Alex Schwartz, 13, from Temple Sinai Stamford, CT were joined by their parents and Sally Gottesman, Board Chair and Deborah Meyer, Executive Director of Moving Traditions.
The girls won their trip to Israel and the right to represent Moving Traditions through the "One Moon, One Wall, One People" contest by showcasing their passion for gender equality.
Moving Traditions sponsored the "One Moon, One Wall, One People" contest in support of Women of the Wall, a multi-denominational women's prayer group whose mission is to achieve the right for women to wear prayer shawls, pray, and read from the Torah out loud at the Western Wall (Kotel).
Video Highlights
Facing the challenges
While at the wall they stood up to some of the challenges that women face at the Kotel. "It was the first time in my life that I saw how change is made, after reading about it," said Eliza.  "It was powerful to see a woman trying to bring a Torah to the Wall and being told no – and we all responded with peaceful singing."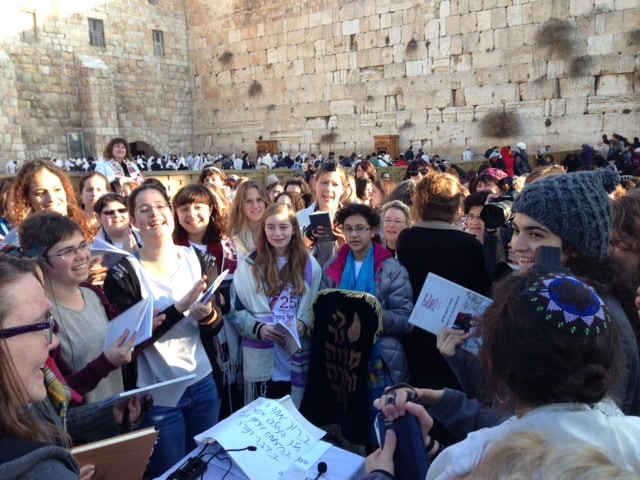 Empowered
Moving Traditions nurtures the gatherings of thousands of adolescent girls in Rosh Hodesh: It's a Girl Thing! groups across North America. These girls have watched from a distance as women in Israel have struggled for the right to celebrate Rosh Hodesh in front of the Western Wall with prayer and Torah reading, led by the efforts of Women of the Wall. "I was honored to represent Moving Traditions at the Wall today," said Lucy. "I felt embraced by the women in prayer as I walked into the service at the Kotel. It was such a feeling of empowerment as we all worked together for change."