Meyer-Gottesman Kol Koleinu Teen Feminist Fellowship
Moving Tradition's Meyer-Gottesman Kol Koleinu Teen Feminist Fellowship is a distinctive opportunity for young Jewish feminists (10th through 12th grade) to learn how to effectively speak their minds and create the change they want to see in the world.
Offered in collaboration with NFTY and with support from USY, this year-long fellowship invites teens of all genders to learn how to apply a Jewish feminist lens to the world, ask powerful questions, deepen their knowledge about social change, and amplify their voices to share their beliefs and express a call to action. Finally, fellows hone their skills by creating a tangible social change project.
During the year, fellows will meet monthly through virtual meetings where participants learn from and teach one another in a supportive Jewish feminist community. We'll also get together virtually and in-person (assuming the safety of travel) a few times throughout the year to meet our mentors, work on projects, and to celebrate our work.
"This program gave me the opportunity to meet so many amazing young people and showed me how my perspectives on Judaism and feminism can help me make the world a better place."
– Kol Koleinu alum
Program Details
Throughout the Kol Koleinu fellowship, participants will teach & learn, connect, and create. The fellowship experience includes:
1. Peer-Teaching
Fellows will self-select a specific social justice topic to teach through a Jewish feminist lens. Peer learning sessions are teen-led with participants learning by crafting and leading activities and discussions for their peers. The peer-teaching element of the fellowship helps fellows to experience facilitation as an activism strategy and increase their knowledge about feminism.
Examples of potential peer-teaching topics include: Feminism & Jewish tradition, feminist approaches to leadership, feminist approaches to violence, body image, gender representation in politics, transfeminism, men and feminism, economic equality, and more.
2. Immersive Community Building
Kol Koleinu will kick off with an in-person gathering (assuming the safety of travel). We will build community and begin exploring fundamental pieces of feminist & Jewish knowledge and ritual as well as social change strategies.
In our virtual programming in separate regional cohorts facilitators will model what virtual teaching can look like for our fellows before they dive into their own peer-taught sessions.
3. Creating a Feminist Social Change Project
Kol Koleinu fellows will further develop their activism skills by creating a social change project that bring their learning, passions and leadership to the greater Jewish teen community and beyond.
Small groups of fellows will work together with a hand-selected Mentor who can guide and support their social change project development as well supporting the teen Fellows' own development as leaders and activists in their communities.
Through the social change project process, Fellows will experience the power of working with others, learn successful organizing skills, practice public speaking and writing on an issue about which they feel passionate, and learn through doing about the various kinds of leadership necessary for different phases of a campaign or project.
Examples of potential projects include: social justice campaigns, educational events, events for programming for students, creation of toolkits for congregations, Instagram campaigns, creating a feminist zine.
"My Kol Koleinu project really gave me the skills and confidence to continue my activism work. Right now, I am in the midst of working on a presentation on transgender inclusion in feminist spaces for my college, and I find myself building off the things I learned from my time [in Kol Koleinu]." – Kol Koleinu alum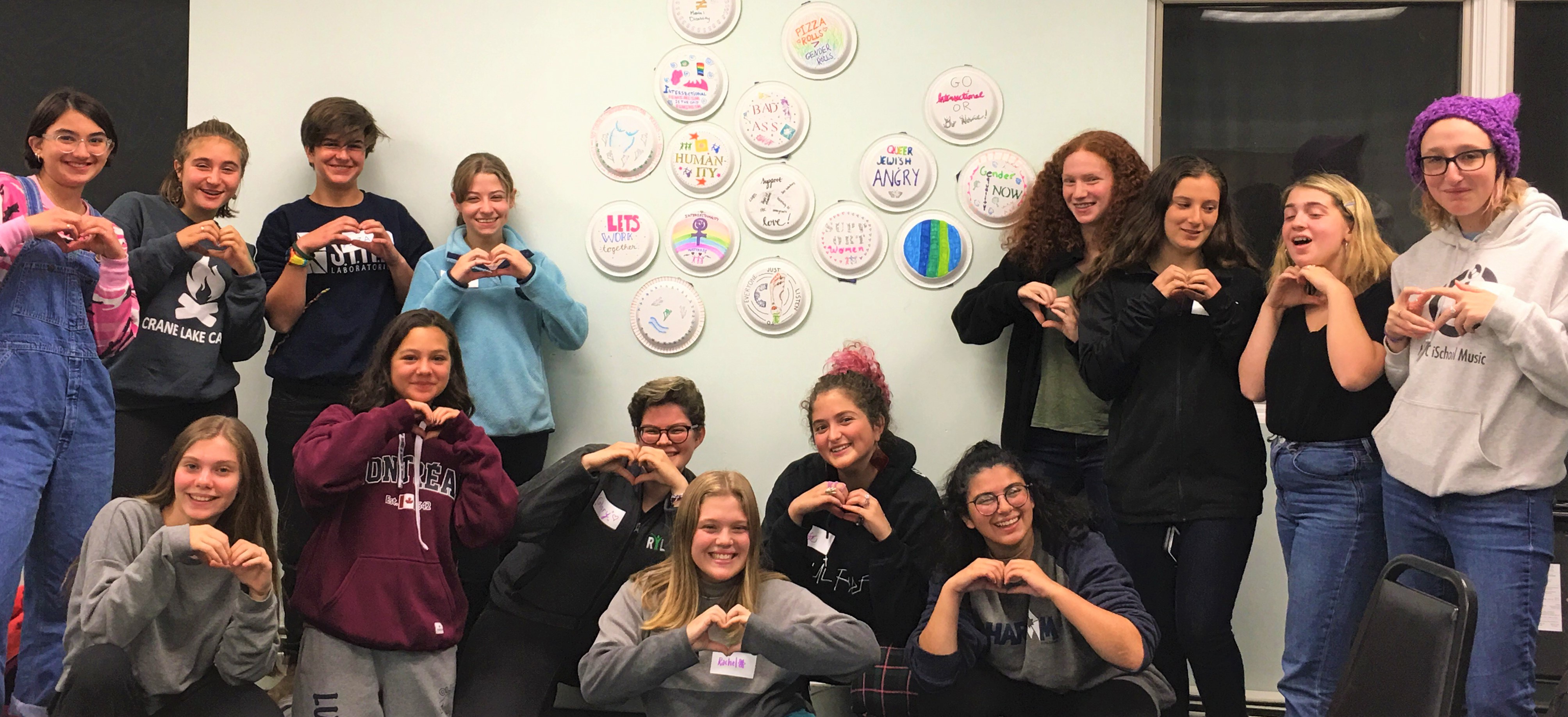 You are eligible to apply for the Kol Koleinu fellowship if:
You identify as Jewish and as a feminist. Kol Koleinu is open to teens of all (and no) denominations and affiliations.
You will be in 10th, 11th, or 12th grade for the 2022-2023 academic year.
You are committed to developing your Jewish feminist knowledge and activist skills.
You are regularly available on our scheduled Sunday evenings (one Sunday a month) from 6:30-8:30 p.m. Eastern, Central & Pacific time (times may vary slightly for different time zones; see meeting dates below) and you can commit at least 5 hours per month outside of monthly fellowship calls.
You want to learn, teach, and grow and be part of a supportive, fun, meaningful, kind community.
Note: availability on the date of the first retreat is one among many factors we will consider, but you are still eligible to apply if you will not be available.
Length of Term
The position is for one academic year, starting in September continuing through May. Participants will meet virtually via online calls and messaging, with the exception of in-person retreats (assuming the safety of travel), as described below.
Fellows will apply their knowledge, skills, and perspectives to teach one another and influence the greater Jewish teen community and beyond.
To this end, fellows are responsible for:
Attending the monthly meetings (as detailed below)
Attending two retreats: one in the Fall and another in the Spring (assuming the safety of travel)
Working in a small group to craft and present a lesson about a feminist topic to the rest of the group
Working in a small group to create and implement an activism project that influences the greater Jewish teen community
Being fully present and involved
Monthly Time Commitment
Participation requires an average commitment of about 7 hours per month (this includes the 2-hour monthly virtual meetings).
Virtual Meetings
Our monthly virtual meetings on Zoom are designed to allow participants to connect easily without taking time for travel. Our meetings will allow for meaningful conversation and interactive activities.. You must be available to participate in a 2-hour video-based meeting on the following dates. We understand that you may have to miss meetings occasionally. However, please note that if you have another regular commitment that conflicts with this time, you are not eligible for a fellowship position.
Cost
Kol Koleinu fellows will be asked to pay a participation fee of $425. This price includes:
Valuable leadership and activism experience within a community of young feminists.
One-on-one mentorship by a hand-selected mentor.
Room and board for two in-person gatherings – assuming the safety of travel. A limited number of retreat travel stipends are available.
*Please email us with any questions. Financial resources should not be a barrier to participation. We will happily work with you to ensure that price is not a barrier to participation. Stipends will be available to cover travel for those who require this. All other costs (housing, food, etc.) will be covered by Moving Traditions.
Next Steps
Check back in late winter/early spring for next year's application. Please prepare written responses to the following four questions before beginning your application. You will be asked to paste your responses into the application form.
The answers to each question should be approximately 200-300 words (1-2 paragraphs, approximately half a page long.) Don't worry if it is a bit longer or shorter. Please answer the following questions to the best of your ability. We want to know more about your leadership skills, background, experiences, and feminist interests.
Why are you interested in being a part of the Meyer-Gottesman Kol Koleinu Teen Feminist Fellowship? What do you hope to gain from Kol Koleinu? What skills do you hope to develop and/or improve upon?
Tell us more about where you are on your feminist journey. What has led you here? What are you most passionate about?
What will make you an excellent Kol Koleinu fellow? Please tell us about personal strengths, leadership skills, and/or leadership positions held.
Within Kol Koleinu, fellows will deliver a peer teaching and develop a social change project. What are social justice/feminist topics you want to dive more deeply into and/or are topics you want to create change around?
Meaning
Kol Koleinu: All Our Voices (pronounced like "coal coal-ay-nu")
The name Kol Koleinu was created as way to signal a feminism that is gender inclusive and a vision of a community that truly elevates and celebrates all voices. In many Jewish communities in the past, and in some still today, the voices of women and sexual and gender minorities have been quieted, silenced and/or sexualized.
This program envisions a community where all voices are heard and taken seriously, and where teens of all genders work together or side by side to make change in our lives and in the world.
Teens from all streams of Judaism are welcome and encouraged to participate.