Kol Koleinu: Teen Feminist Fellowship
Moving Tradition's Kol Koleinu fellowship, offered in collaboration with NFTY and USY, invites young Jewish feminists to explore and deepen their feminist knowledge, channel their voices to share their beliefs, and use their skills to create tangible change in their communities.
Open to Jewish high school students nationally, this year-long fellowship brings together teens to learn about gender analysis, feminism and social change, to use their expertise to teach their peers, and to complete projects that share their learning and leadership with their greater Jewish communities.
During the year, our group will meet monthly through virtual meetings where participants learn from and teach one another. We'll also get together virtually or in-person (assuming the safety of travel) a few times throughout the year to meet our mentors, work on projects, and to celebrate our work.
"This program gave me the opportunity to meet so many amazing young people and showed me how my perspectives on Judaism and feminism can help me make the world a better place."
– former Kol Koleinu participant
Program Details
Throughout the Kol Koleinu Fellowship participants will learn, teach, and create.
Immersive Community Building
Kol Koleinu will kick off with virtual programming (via Zoom). We will then meet for a virtual retreat in October. We will use these initial online meetings to build community and begin exploring fundamental pieces of feminist & Jewish knowledge. We will begin by exploring feminist issues through a curriculum that focuses on basics of feminist theory, gender analysis, feminist history, and methods of social change while utilizing Jewish teachings to explore values and understandings.
In our virtual programming, facilitators will model what virtual teaching can look like for our fellows before they dive into their own peer-taught sessions.
Peer Learning
Participants will self-select specific feminist topics to become experts in. Peer learning sessions are teen-led with participants learning by crafting and leading lessons, activities and discussions for their peers.
Fellows will explore a broad range of topics based on their own feminist passions and hone their teaching skills and gain understanding by doing.
Fellows will additionally have the opportunity to blog about their learnings and create online content that allows them to share their knowledge and voices with a greater audience.
Examples of potential topics include: Feminism & Jewish tradition, feminist approaches to leadership, feminist approaches to violence, gender and power, gender's impact on teen culture, gender and Jewish history, body image, gender representation in politics, transfeminism, men and feminism, gender socialization within Jewish culture, economic equality, and intersectionality & Judaism
Creating Feminist Social Change Projects
Kol Koleinu fellows will create and implement social change projects that bring their learning, passions and leadership to the greater Jewish teen community. With the ultimate goal of creating social change, small groups of fellows will work together with a mentor who can guide and support their project development and offer expertise relevant to the topic and/or type of project the group has decided to make. Mentors will support the leadership development of fellows as they design projects that build their sense of themselves as leaders and activists while also addressing issues of concern in teens' communities and beyond. Fellowship participants will experience the power of working with others, learn successful organizing skills, practice public speaking and writing on an issue about which they feel passionate, and learn through doing about the various kinds of leadership necessary for different phases of a campaign or project.
Examples of potential projects include: social justice campaigns, educational events, events for programming for students, creation of toolkits for congregations, Instagram campaigns, creating a feminist zine.
"My favorite thing that I produced as part of the fellowship was my group's social change project: a tangible representation of everything I know and feel about gender equality." – former Kol Koleinu participant, Rachel Gorman-Cooper. Read more about Rachel's experience in the fellowship and her activism project here!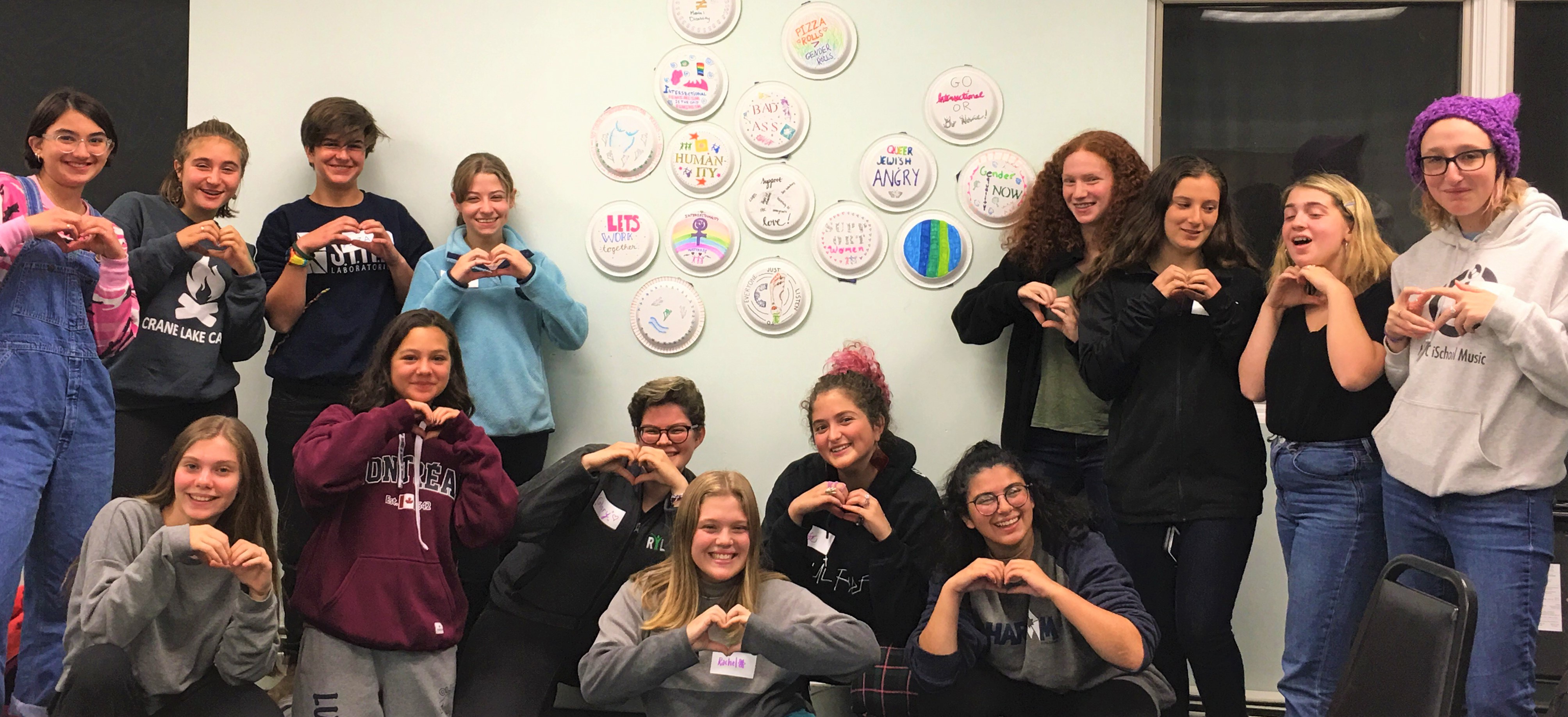 You are eligible to apply for the Kol Koleinu fellowship if:
You identify as Jewish and as a feminist. Kol Koleinu is open to teens of all (and no) denominations and affiliations.
You will be in 10th, 11th, or 12th grade for the 2021-2022 academic year.
You are committed to developing your leadership and activist skills.
You are regularly available on our scheduled Sunday evenings (one Sunday a month) from 6:30-8:30 p.m. Eastern, Central & Pacific time (see meeting dates below).
You want to learn, teach, and grow and be part of a supportive, fun, meaningful, kind community.
Note: availability on the dates of the first retreat (October 15-17, 2021) is one among many factors we will consider, but you are still eligible to apply if you will not be available.
Length of Term
The position is for one academic year, starting in autumn of 2021 continuing through May of 2022. Participants will meet virtually via online calls and messaging, as well as for the first retreat, with the exception of one in-person retreat (assuming the safety of travel), as described below.
Fellows will apply their knowledge, skills, and perspectives to teach one another and influence the greater Jewish teen community.
To this end, fellows are responsible for:
Attending the monthly meetings (as detailed below
Attending two retreats: one virtual in the Fall and another in-person in the Spring (assuming the safety of travel).
Working in a small group to craft and present a lesson about a feminist topic to the rest of the group.
Working in a small group to create and implement an activism project that influences the greater Jewish teen community.
Being fully present and involved.
Monthly Time Commitment
Participation requires an average commitment of 5 hours per month.
Virtual Meetings
Our monthly virtual meetings are designed to allow participants to connect easily without taking time for travel. Using an online video platform, our meetings will allow for meaningful conversation and interactive activities and will take full advantage of technology by sharing visuals and utilizing virtual break-out groups. You must be available to participate in a 2-hour video-based meeting on the following dates. We understand that you may have to miss meetings occasionally. However, please note that if you have another regular commitment that conflicts with this time, you are not eligible for a fellowship position.
Dates for Kol Koleinu 2021-2022
Sunday, September 26, 2021: Monthly Meeting via Zoom (6:30 p.m. – 8:30 p.m. PT, CT & ET; there will be 4 separate cohort calls running per day, times may vary slightly based on cohort)
Friday, October 15 – Sunday, October 17, 2021: Virtual National Program Retreat via Zoom
Sunday, November 14, 2021: Monthly Meeting via Zoom (6:30 p.m. – 8:30 p.m. PT, CT & ET)
Sunday, December 5, 2021: Mentor Match Day via Zoom (1:00 p.m. PT/2:00 p.m. MT/3:00 p.m. CT/4:00 p.m. ET)
Sunday, December 5, 2021: Monthly Meeting via Zoom (6:30 p.m. – 8:30 p.m. PT, CT & ET)
Sunday, January 30, 2022: Monthly Meeting via Zoom (6:30 p.m. – 8:30 p.m. PT, CT & ET)
Sunday, February 13, 2022: Monthly Meeting via Zoom (6:30 p.m. – 8:30 p.m. PT, CT & ET)
March TBD: In-Person National Program Retreat
Sunday, April 24, 2022: Monthly Meeting via Zoom (6:30 p.m. – 8:30 p.m. PT, CT & ET)
Sunday, May 22, 2022: Closing Event via Zoom (7:00 p.m. ET)
Cost
Kol Koleinu fellows will be asked to pay a participation fee of $360. This price includes:
Valuable leadership experience within a community of young feminists.
One-on-one mentorship opportunities.
Room and board for an in-person Spring retreat – assuming the safety of travel. A limited number of retreat travel stipends are available.
*Please email us with any questions. Financial resources should not be a barrier to participation. We will happily work with you to ensure that price is not a barrier to participation. Stipends will be available to cover travel for those who require this. All other costs (housing, food, etc.) will be covered by Moving Traditions.
Next Steps
Please prepare written responses to the following four questions before beginning your application. You will be asked to paste your responses into the application form.
The answers to each question should be approximately 200-300 words (1-2 paragraphs, approximately half a page long.) Don't worry if it is a bit longer or shorter. Please answer the following questions to the best of your ability. We want to know more about your leadership skills, background, experiences, and feminist interests.
Why are you interested in being a part of Kol Koleinu: A Teen Feminist Fellowship?
Tell us more about where you are on your feminist journey. What has led you here? What are you most passionate about?
What will make you an excellent Kol Koleinu fellow? Please tell us about personal strengths, leadership skills, and/or leadership positions held. Share ways you have influenced others either in formal leadership positions or informal positions/platforms (e.g. on social media).
What do you hope to gain from Kol Koleinu? What skills do you hope to develop and/or improve? What change do you hope to create? What are three social justice/feminist topics that you would most like to learn more about?
Application closes Sunday, May 2, 2021 at 11:59 p.m. EST.
Kol Koleinu Fellowship Application for 2021-2022
Meaning
Kol Koleinu: All Our Voices (pronounced like "coal coal-ay-nu")
The name Kol Koleinu was created as way to signal a feminism that is gender inclusive and a vision of a community that truly elevates and celebrates all voices. In many Jewish communities in the past, and in some still today, the voices of women and sexual and gender minorities have been quieted, silenced and/or sexualized.
This program envisions a community where all voices are heard and taken seriously, and where teens of all genders work together or side by side to make change in our lives and in the world.
Leadership
Kol Koleinu will be spearheaded by Jennifer Anolik, Curriculum Manager and Rabbi Tamara Cohen, VP, Chief of Program Strategy for Moving Traditions.
NYC Area Cohort Leader – Stacy Bernstein is the NFTY Midwest Area Associate Manager at the URJ where she oversees six NFTY regions within the Midwest. Here, Stacy works with teen leaders and congregational professionals that span from Minnesota to Missouri. Stacy grew up as an active participant of NFTY Missouri Valley, as well as a camper and staff member at URJ Goldman Union Camp Institute. An educator at heart, Stacy studied Elementary Education at the University of Kansas and taught elementary school for 2 years. Previous to this role, Stacy worked in St. Louis on a city-wide Reform Teen Initiative. Stacy currently lives in St. Louis and loves baking banana bread, going on walks, and cheering for the Jayhawks.
Eastern Cohort Leader – Rachel Faulkner is a community organizer, coach, social justice advocate, and anti-racist educator. She has done this work through roles at City Year, Match Education, the Community Builders, and Citizens of The World Elementary School, and currently serves as the Director of Community Investments at the Safety Respect Equity Network, where she works on advancing intersectional gender justice in Jewish work and community spaces. Additionally, Rachel served as the National Organizer for #JWOCMarching, is an alum of Bend the Arc's Selah program, the Schusterman Foundation's REALITY trip, and serves on the board of T'ruah: The Rabbinc Call for Human Rights. Ultimately, Rachel is passionate about ensuring that the voices of Jewish Women of Color are centered in Judaism and in the greater world. But when she's not busy doing that, she spends time with her daughter Ori Justice taking long walks or bike rides around the nation's capital.
Central Cohort Leader – Paige GoldMarche, she/her, emboldens Jewish youth with program partners as the Chicago & Midwest Director at Moving Traditions. Paige is a life-long Jewish professional, who has excelled in creating meaningful engagement within the community and has committed her life to educating and empowering the next generation of Jewish adults. She loved leading the 2020-21 Pacific cohort of Kol Koleinu and is excited to be leading the 2021-22 Central cohort. Paige was a committee member of YLD Pride, Chicago's Jewish United Fund's LGBTQ+ young adult group, is on the Clark University Hillel Advisory Board, and was a stem cell donor through the Gift of Life Bone Marrow Foundation. When not at Moving Traditions, you can find her baking challah, hosting young adults in her home of Doppelt Base in Andersonville, and hanging with her wife Megan and daughters Bri and Rori.
Western Cohort Leader – Alisha Pedowitz is Moving Traditions' California Director. She is responsible for strengthening and expanding Moving Traditions' capacity to reach Jewish preteens and teens across California, primarily in Los Angeles. She has made her career working with teens, using the richness of Jewish community, ritual, tradition, and wisdom to help them thrive. Alisha has worked as an educator and communal professional at Jewish camps, schools, and agencies throughout California, and is Rosh Hodesh community group leader. Alisha holds an MBA in Nonprofit Management, a MAEd with a Concentration in Experiential Education, and a Bachelor's degree in Hebrew Letters from American Jewish University, as well as a Bachelor's degree in Psychology from Stanford University. She lives in Los Angeles with her family.
We are excited to be continuing Kol Koleinu, a program of Moving Traditions offered in collaboration with NFTY and USY.
Moving Traditions:
Founded in 2005, Moving Traditions emboldens teens to flourish by fostering self-discovery, challenging sexism, and inspiring a commitment to Jewish life and learning. As a result of the organization's immersive teen groups, which run from 8th-12th grade and are led by 850 trained adult mentors, 23,000 teens have grown to be confident and compassionate and are forging deep connections to Jewish life. Moving Traditions' b'nai mitzvah program has partnered with more than 400 congregations (including JCCs and other Jewish entities across North America). Launched in 2018, the program addresses pre-teens' social and emotional needs with parents and youth of all genders. Moving Traditions recently renewed and renamed its teen groups, Rosh Hodesh for girls and Shevet for boys, and introduced Tzelem, the first national online and ongoing group to connect and engage Jewish transgender and gender fluid teens with the guidance of a trained adult mentor, offered in partnership with Keshet. Moving Traditions is excited to be partnering with NFTY and USY to offer current and former participants in Rosh Hodesh, Shevet and Tzelem as well as those new to our programming, a way to deepen their learning about gender, expand their connections with Jewish teens who share their interests and commitments, and build their leadership and activist skills.
NFTY – the Reform Jewish Youth Movement:
NFTY is a movement that builds strong, welcoming, inspired communities through teen-powered engagement. Together, we pursue tikkun olam, personal growth, youth empowerment, and deep connections, all rooted in Reform Judaism.
NFTY is thrilled to welcome teens to be a part of the Kol Koleinu Fellowship as an opportunity for engagement in Reform Jewish social justice and interest-based skill development. We are excited for teens to participate in Kol Koleinu: Teen Feminist Fellowship as a year-long intensive program that runs side-by-side with other NFTY events and programming. Fellows will be invited to attend events, and encouraged to share their work with our greater community of Reform Jewish teens, but will not be required to participate in specific NFTY programming.
USY 
USY is USCJ's youth movement for Conservative Jewish teens across North America. For more than 60 years, USY has taught young Jews the values and skills they need to become exceptional leaders in their religious and secular communities. USY empowers youth to develop friendships, leadership skills, a sense of belonging to the Jewish People, and a commitment to inspired Jewish living through meaningful and fun experiences rooted in Conservative Judaism's approach to learning, spiritual expression, and social responsibility. Through year round programming and domestic and international travel opportunities, USY inspires in teens a deep sense of pride in and love for their Jewish identity.
Teens from all streams of Judaism are welcome and encouraged to participate.