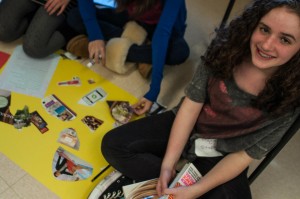 Moving Traditions offers a proven model of intellectual, ethical, and spiritual Jewish exploration for pre-teens and teens.
Our field tested programs, Rosh Hodesh and Shevet are based on research and consultation with psychologists, social workers, rabbis — and most important, teens themselves.
In monthly meetings, with games, media, the arts, and conversation, Moving Traditions-trained group leaders use our curricular resources to bring Jewish values and practice to bear on the deepest concerns of adolescents.
Read about the programs from the perspective of a Shevet group leader.
Read about Rosh Hodesh from the perspective of longtime participants.
Find out how to start a group for your son or daughter.
Helping Adolescents Come of Age 
Every Shabbat, at bat and bar mitzvah ceremonies across the country, girls and boys are celebrated as they become Jewish women and men. While 80% of Jewish girls and boys will have a b'nai mitzvah, most will also drop out of Jewish life within two years — at a time when they most need the guidance of the Jewish community.
Girls and boys alike are swamped by confusing messages about femininity and masculinity. Should they be outspoken or quiet? Defiant or compliant? Independent or cooperative? Sexy or modest? Risky or safe?
As they come of age they will ask "What does it really mean to be a man?" and "What does it really mean to be a woman?" and hopefully, for the sake of our teens and our world, "What what does it really mean to be a mensch?" Moving Traditions' programs are designed to help teens navigate adolescence in Jewish community.
Read more about our approach to gender and helping girls and boys come of age.