Talking with Teens: Reproductive Rights & Sexual Health
Raising Up Teens with Moving Traditions – a webinar for parents and educators
Thursday, July 14 @ 8 – 9 p.m. ET / 5 – 6 p.m. PT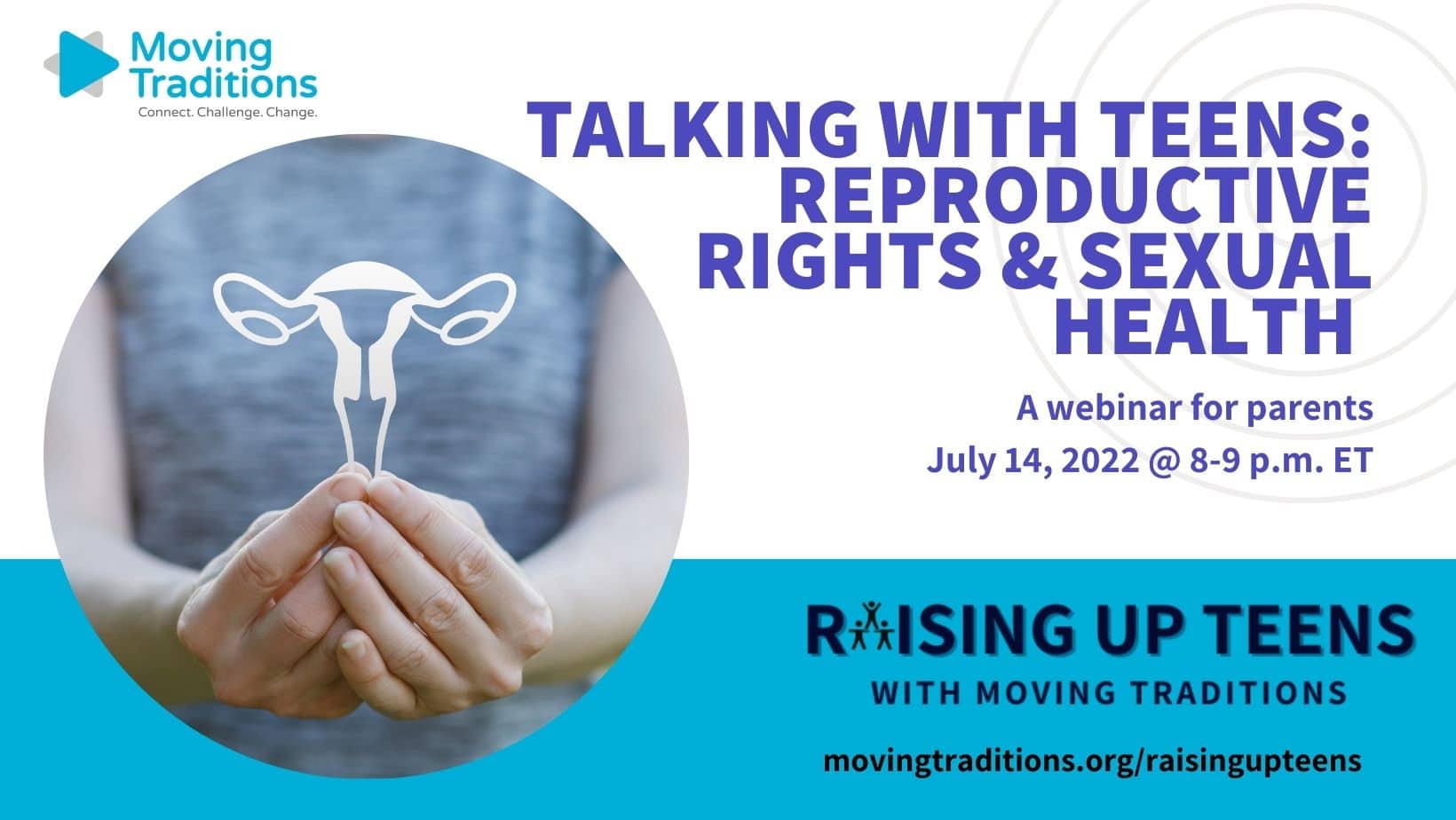 While we are still reeling from the Supreme Court's decision to overturn Roe v. Wade, Moving Traditions wants to help you adjust to this shifting reality.
Abortion is a complicated and politicized topic, and your teen likely has questions, concerns, and feelings about the implications on their own lives and reproductive choices. Please join us for this important conversation.
Featured Speakers:
Rabbi Danya Ruttenberg (she/her) is an award-winning author and writer. She was named by Newsweek and The Daily Beast as one of ten "rabbis to watch," as one of 21 "faith leaders to watch" by the Center for American Progress, by the Forward as one of the top 50 most influential women rabbis, has been a Washington Post Sunday crossword clue (83 Down) and called a "wunderkund of Jewish feminism" by Publishers Weekly. She serves as Scholar in Residence at the National Council of Jewish Women (NCJW). She was recently published in The Atlantic: My Religion Makes Me Pro-abortion.
Charis Denison (she/her) is a Youth Advocate, teacher, and expert in Human Development, Ethics, and Social Justice. Over the past 25 years, she has built her experience primarily partnering with hundreds of schools, teens, families, and organizations. Charis currently runs Prajna Consulting, which partners with communities around the issues of Human Development, Social Justice, and Ethics and the essential connection between those topics. Charis' work as a youth advocate emphasizes empowering young people to make choices that end in honor and joy rather than regret, guilt or shame. Her work is featured in Peggy Orenstein's books, Girls and Sex: Navigating the New Landscape and Boys and Sex: Young Men on Hook Ups, Love, Porn, Consent, and Navigating the New Masculinity.
Additional speakers to be announced
Moderated by:
Rabbi Tamara Cohen (she/her), Chief Program Officer for Moving Traditions, guides Moving Traditions' educational design and builds strategic partnerships for reach and impact. Tamara is the mother of two boys, one in the throes of adolescence.
Alisha Pedowitz (she/her), Director of Teen Education for Moving Traditions, leads the growth of our programs that inspire Jewish teens to live and act as their fullest selves. She is the mother of two adolescents.
A discussion of reproductive rights in American can be about many things – personal autonomy, religious freedom, and/or racial and economic equity, just to name a few.  However, one of the most important discussions you may end up having on the topic this summer is with your own teen or a teen in your life about issues of their own sexual and reproductive health, rights, and choices.


Raising Up Jewish Teens with Moving Traditions is a series of free webinars geared toward parents, educators, and all those who guide Jewish preteens and teens. All are welcome.
Please note that registration is required to receive the Zoom link to the event.
---
About Moving Traditions
More than 28,000 Jewish youth have participated in Moving Traditions programs: our B-Mitzvah Family Education Program; our Teen Groups – Rosh Hodesh for girls, Shevet for boys, Tzelem for LBGTQ+ teens; Kulam, our new all gender classroom pilot program; and the Meyer-Gottesman Kol Koleinu Teen Feminist Fellowship.