Raising Up Teens with Moving Traditions – a webinar for parents and educators
Thursday, July 14 @ 8 – 9 p.m. ET / 5 – 6 p.m. PT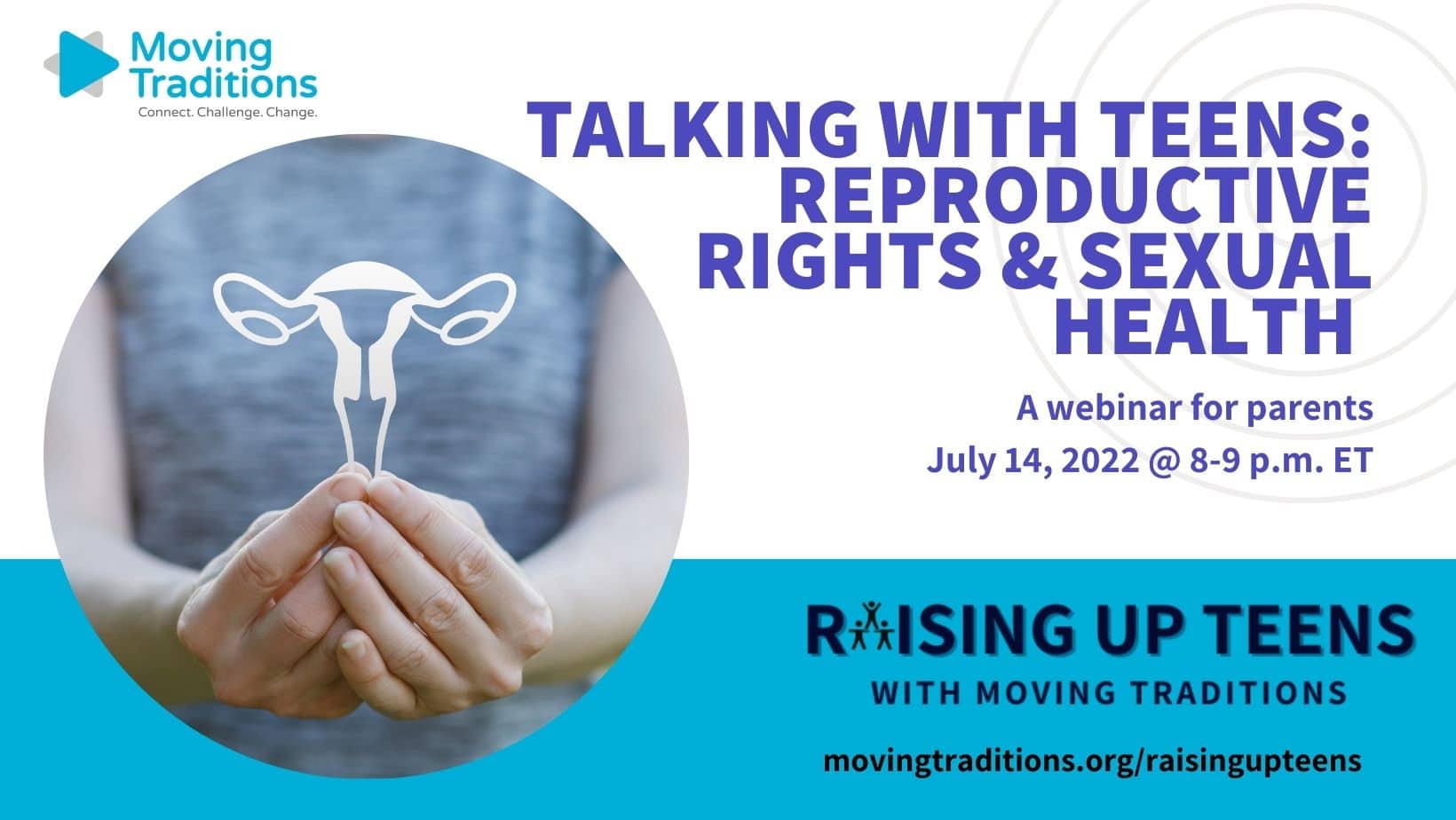 While we are still reeling from the Supreme Court's decision to overturn Roe v. Wade, Moving Traditions wants to help you adjust to this shifting reality.
Abortion is a complicated and politicized topic, and your teen likely has questions, concerns, and feelings about the implications on their own lives and reproductive choices. Please join us for this important conversation.
Featured Speakers:
Charis Denison (she/her) is a Youth Advocate, teacher, and expert in Human Development, Ethics, and Social Justice. Over the past 25 years, she has built her experience primarily partnering with hundreds of schools, teens, families, and organizations. Charis currently runs Prajna Consulting, which partners with communities around the issues of Human Development, Social Justice, and Ethics and the essential connection between those topics. Charis' work as a youth advocate emphasizes empowering young people to make choices that end in honor and joy rather than regret, guilt or shame. Her work is featured in Peggy Orenstein's books, Girls and Sex: Navigating the New Landscape and Boys and Sex: Young Men on Hook Ups, Love, Porn, Consent, and Navigating the New Masculinity.
Dena Robinson (she/her) is a Black, Jewish, and queer first-generation American civil rights attorney based in Baltimore, MD. Before law school, Dena was an English to Speakers of Other Languages (ESOL) educator in Baltimore City. She graduated from The Johns Hopkins University with her M.S.Ed. in 2014. She graduated from the University of Maryland Francis King Carey School of Law cum laude in 2017. Dena currently works as a Trial Attorney in the Department of Justice's Civil Rights Division. When Dena is not lawyering, you'll find her leading design sprints around Baltimore or running her Diversity, Equity, and Inclusion Facilitation and Consulting practice, Radical Roots. Dena has served on the advisory board of If/When/How: Lawyering for Reproductive Justice and was previously the chair of If/When/How's Board of Directors.
Rabbi Danya Ruttenberg (she/her) is an award-winning author and writer. She was named by Newsweek and The Daily Beast as one of ten "rabbis to watch," as one of 21 "faith leaders to watch" by the Center for American Progress, by the Forward as one of the top 50 most influential women rabbis, has been a Washington Post Sunday crossword clue (83 Down) and called a "wunderkund of Jewish feminism" by Publishers Weekly. She serves as Scholar in Residence at the National Council of Jewish Women (NCJW). She was recently published in The Atlantic: My Religion Makes Me Pro-abortion.
Hana Collison-Zeldes (she/her) is a rising senior at San Dieguito Highschool Academy and was a 2021-2022 Kol Koleinu Fellow. After hearing the horrific news about the overturn of Roe v. Wade, she contacted over 100 people about taking action. She started the "Take Action Club" at her high school, and since then she and her fellow student activists have developed a feminist-based organization called "We are the Resistance" for activists of all ages. Every week they promote multiple tasks for members to focus on (Pre-registering teens, GOTV, finding resources, and much more).
Avivah Mitchel (she/her) is an incoming high school senior in Ann Arbor, MI and was a 2021-2022 Kol Koleinu Fellow. She is a co-president and tutor in her school's Writing Center, passionate about working toward a more equitable school. She makes and sells jewelry on Etsy with her mom. As her social change project through the Kol Koleinu fellowship, she started a fundraiser by selling uterus-charm earrings and donating 100% of the profits to the Midwest Access Coalition as she is passionate about reproductive justice as a part of intersectional feminism. Avivah also enjoys helping her dad on their organic family farm, Country Valley Farm.
Moderated by:
Rabbi Tamara Cohen (she/her), Chief Program Officer for Moving Traditions, guides Moving Traditions' educational design and builds strategic partnerships for reach and impact. Tamara is the mother of two boys, one in the throes of adolescence.
Alisha Pedowitz (she/her), Director of Teen Education for Moving Traditions, leads the growth of our programs that inspire Jewish teens to live and act as their fullest selves. She is the mother of two adolescents.
A discussion of reproductive rights in American can be about many things – personal autonomy, religious freedom, and/or racial and economic equity, just to name a few. However, one of the most important discussions you may end up having on the topic this summer is with your own teen or a teen in your life about issues of their own sexual and reproductive health, rights, and choices.

Raising Up Jewish Teens with Moving Traditions is a series of free webinars geared toward parents, educators, and all those who guide Jewish preteens and teens. All are welcome.
This event has now passed.