Raising Up Teens with Moving Traditions – a webinar for parents and educators
Wednesday, October 26, 2022 @ 8 – 9:15 p.m. ET / 5 – 6:15 p.m. PT
Join Moving Traditions as we welcome Jason Ablin, author of The Gender Equation in Schools, and others to talk about how teen boys experience gender in school and in their everyday lives, the challenges they face, and how we can better support their changing needs.
Together with experts, including a trained mentor and former teen program participant, we will share actionable ideas and concrete resources to help the teen boys* in your life thrive.
*Inclusive of nonbinary and gender expansive teens impacted by masculine gender norms
---
Featured Speakers:
Jason Ablin (he/him) is the Director of Ablin Educational Services and author of The Gender Equation in Schools. With close to 30 years in education and educational leadership, Jason Ablin has served as a teacher, principal and head of school. He holds national certification in leadership coaching and mentoring from the National Association of School Principals and has been supporting and mentoring new leaders throughout the country over 10 years. Jason has also developed curriculum and strategic planning to train young and upcoming leaders at all levels of primary and secondary schools in order to ensure excellence in schools and to rethink the development of leadership.
Rabbi Daniel Brenner (he/him), VP of Education for Moving Traditions, helps Jewish communities address the spiritual and developmental needs of preteens and teens.
Matt Arons, current Shevet Group leader and former participant.
Moderated by:
Alisha Pedowitz (she/her), Director of Teen Education for Moving Traditions, leads the growth of our programs that inspire Jewish teens to live and act as their fullest selves. She is the mother of two adolescents.
About the book: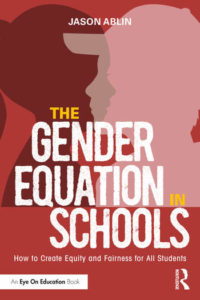 The Gender Equation in Schools: How to Create Equity and Fairness for All Students
This compelling book, published by Routledge, takes you inside a teacher's journey to explore the question of gender in education. Jason Ablin uses his background in math teaching, school leadership, and neuroscience to present expert interviews, research, and anecdotes about gender bias in schools and how it impacts our best efforts to educate children. He provides practical takeaways on how teachers and leaders can do better for students. There is also a handy Appendix with step-by-step guides for facilitating faculty-wide conversations around gender; writing learning reports without gender bias; using student assessments to check gendered attitudes about learning; evaluating learning spaces; and creating an inquiry map of your classroom. As a teacher, administrator, DEI director, or homeschooling parent, with the strategies and stories in this book, you'll be ready to embark upon your own journey to balance the gender equation and create greater equity for all of your students.
As a part of this event, there will be a book giveaway! More details to follow.
Registration is now closed. View the recording and check out our post-event resources.

Raising Up Jewish Teens with Moving Traditions is a series of free webinars geared toward parents, educators, and all those who guide Jewish preteens and teens. All are welcome.