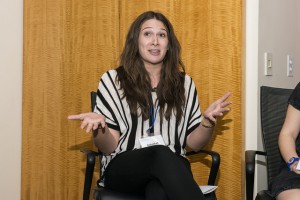 As the graduate intern for UJA's Commission on Jewish Identity and Renewal this year, I feel as though I have a special role—one that works with our teens face-to-face and simultaneously has the chance to think strategically about the work we are doing and why we are doing it.  I feel that I am able to think about sessions with my Rosh Hodesh girls in a different light because of my experience at UJA-Federation, and would love to share some of my experiences as a Rosh Hodesh leader with you.
If I had to use three words to describe Rosh Hodesh: It's a Girl Thing I would say "community," "identity," and "empowerment."  Every time I meet with either of my two Rosh Hodesh groups (a seventh grade group at Beth El Synagogue Center in New Rochelle, NY and an eighth grade group at the Rosenthal Jewish Community Center in Pleasantville, NY), I am blown away by the sense of community they demonstrate, the ways they think about their individual and collective identity, and the way they not only empower me, but empower each other to continue to pursue the things that are important to them. They have created a safe space, a sanctuary of sorts, where they can voice their opinions, express their concerns, and be vulnerable; they believe to their cores that the information shared in the space is sacred and will remain in the space we created together.
Both of these Rosh Hodesh groups are in their second year and I wish I could easily put into words the way in which they have grown individually and as a group.  Each group is very different: The group at Beth El is a group of eight seventh grade girls who have grown up together at Beth El; they all go to the same middle school and are in the same religious school class, but Rosh Hodesh is what keeps them close.  The group at the Rosenthal Jewish Community Center is very diverse, some going to the same school, almost none of them coming from a similar Jewish background; conversation is always rich and they continue to learn from each other every time we come together.
There are different aspects of each group that I value, and I work to create sessions that will be meaningful for the girls; I value them as learners, as Jews, as women, and as our future leaders, and I want them to gain as much as possible from our experiences together.
I hope I have the opportunity to see these girls through their entire Rosh Hodesh career, a five-year model; I am further inspired by them every time we meet. I look forward to being a part of their growth as they continue through their adolescence and I feel blessed to have been given the opportunity to get to know these girls and all they have to offer.  Rosh Hodesh: It's a Girl Thing offers teenage girls a unique opportunity that life today does not always provide: a safe space to talk freely about what you believe in, a place to come together as a community. I wish this existed when I was a teenager!  I truly believe that Rosh Hodesh can have a positive, lasting impact of Jewish, teenage girls of today, and I hope that the research and personal anecdotes that Moving Traditions has worked on will further demonstrate its impact.