By Selah Maya Zighelboim, Jewish Exponent, June 6, 2018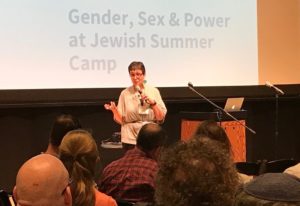 As a former Jewish summer camper, Moving Traditions CEO Deborah Meyer said camp was a place where she developed long-lasting friendships and an intense connection to Jewish life.
But it was also a place where she remembers some inappropriate behavior between counselors.
"The broader society, the broader culture seeps into summer camp," Meyer said. "Even camps with really good policies still have human beings, especially counselors, who are coming with their good intentions, but are bringing in some of the norms from the wider culture around hook-up and objectification and sexualization, and just ways of relating that are not necessarily really thought through in terms of how to create a healthy and safe space for younger teens and preteens and younger children."
For years, Moving Traditions, a national organization based in Jenkintown, has worked with Jewish summer camp leaders to change camp culture and address issues around gender, sexuality and power, including body image, bullying and awareness about not encouraging inappropriate sexuality at too young of an age. And in the wake of the #MeToo movement, demand for training has grown.