Tzelem NY is a monthly group for Jewish trans, nonbinary, and genderqueer teens. This year we will also be launching a new Tzelem NY group for Jewish LGBTQ+ teens.
The Tzelem program offers a safe, supportive space to make new friends and explore issues like:
Life transitions
Healthy Relationships
Body Positivity
Self-Compassion
Mental Health
Jewish Identity
And much more!
Monthly sessions will take place at Congregation Rodeph Sholom, 7 W 83rd St, New York, NY 10024, the following Saturdays: September 25, October 16, November 13, December 4, January 15, February 5, March 26, April 9, and May 21. The LGBTQ+ group will meet 12:45-1:45 p.m. and the Transgender/Nonbinary group will meet 2:00-3:00 p.m. All participants will need to show proof of COVID-19 vaccination to enter the building.
If you are unable to meet in person, please contact Stacy Shapiro at sshapiro@movingtraditions.org.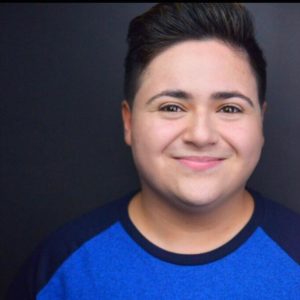 Group Leader Sandy Sahar Gooen
Sandy Sahar Gooen (He/Him) is a multi-hyphenate artist, educator, and advocate with a BA in Music from Barnard/Columbia. The NYC Tzelem group is the next chapter in his engagement with Jewish teens in the LGBT/TGNC community. He is an active part of the JQY and Eshel communities, a former BASE MNHTN Artist-in-Residence, and a former theatre counselor at Camp Pembroke.
Contact
For additional information about this program, please contact:
Stacy Shapiro sshapiro@movingtraditions.org
Dina Newman dnewman@crsnyc.org
Register Today!
Supporting Partners