By Shuli Karkowsky, Moving Traditions' CEO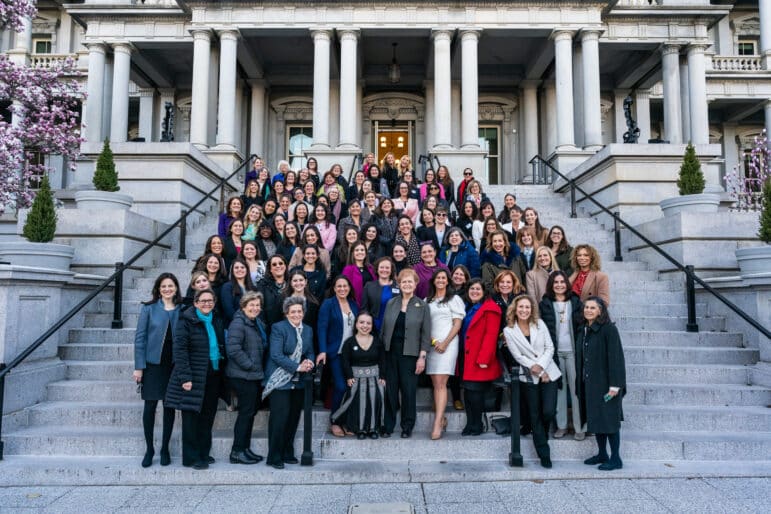 I am writing this email on the train home from the White House, where I joined a group of incredible leaders at the first-ever Jewish Women's Forum at the White House. The event was timed to coincide with Women's History Month and the Jewish holiday of Purim. In these dark days of rampant antisemitism in America, the forum served – like Purim – as a bright moment for joy and pride.
The program began with an interview of Second Gentleman Douglas Emhoff, and he made the heart of every feminist in the room sing as he spoke about his primary role: to support his incredible and accomplished wife as the first Jewish spouse in the White House, and the first Second Gentleman of all time.
The room responded even more emotionally as he spoke about publicly incorporating Judaism into his life as Second Gentleman, including putting up a mezuzah in the VP residence and a beautiful Passover seder. But he spoke with the most earnest conviction about the moment that the President urged him to formally rise to the role of standing up against antisemitism and hate, including taking a trip to Auschwitz just last month.
Mr. Emhoff was followed by Rosie Hidalgo (Senior Advisor on Gender-Based Violence and Special Assistant to the President, White House Gender Policy Council); Ambassador Deborah Lipstadt (Special Envoy to Monitor and Combat Antisemitism); Anne Neuberger (Deputy National Security Advisor for Cyber and Emerging Technology) and a foreign policy panel. All spoke eloquently about their roles in the White House and its response to antisemitism.
As a traditionally observant Jewish woman, I felt particularly moved as Ms. Neuberger spoke about the administration's exceptional support of her religiously observant life, telling a poignant and funny story about what happens when a cybersecurity crisis coincides with Shabbat. (The punch line: the world can survive without anyone for 25 hours.) I also guffawed out loud at Ambassador Lipstadt's hilarious tale of illicitly jumping a fence in Poland to fill in the gaps of family history lost to the Holocaust. Ambassadors – they're just like us!
The Purim story is set off by an antisemitic antagonist, Haman, who convinces the king to give him genocidal authority to murder all the Jews in the kingdom. Haman's arguments – that the Jews are both too assimilated and too separate (מְפֻזָּ֤ר וּמְפֹרָד֙), and that their religious practices are unnervingly different (וְדָֽתֵיהֶ֞ם שֹׁנ֣וֹת מִכָּל־עָ֗ם)– ring too familiar in American today. The king bows to this antisemitic influence instantaneously.
My trip to the White House today provided a bright contrast. History is littered with instances of institutional antisemitism and misogyny, when the halls of power themselves were the provocateurs of hatred, like in the Purim story. I felt immense gratitude to hear, in this moment, from federal figures committed to being part of the solution, not the problem.
To be clear, The White House presentation came with a heavy dose of reality: No one purported to know all the answers, and the leit motif throughout the day was that sexism and antisemitism are perennial scourges we may never eradicate.
Unsurprisingly, in a room of civically-motivated Jewish women, the question kept coming up: What more can we do to help? The responses were fairly consistent. We must carry on what we are already doing: living proud and joyful Jewish lives, calling out sexism and antisemitism when we see it, and lobbying our political figures with solutions, since they can't do it alone. The central role of nonprofits was highlighted when Ms. Hidalgo credited our wonderful colleagues at Jewish Women International for orienting parts of the renewal of the Violence Against Women Act toward prevention rather than just response. The law now provides funding to help young people understand what healthy relationships could and should look like – work that is near and dear to Moving Traditions' heart.
Even with that dose of realism, I left the White House overcome with gratitude. In our work with teens, Moving Traditions has a lot of experience addressing hard stuff: antisemitism, racism, transphobia, and homophobia – not to mention the recent plagues of persistent sadness, anxiety, and depression that are affecting teens at unprecedented levels these days. But today I get to be the messenger of a little bit of light: the nearly unprecedented blessing of living in a country where, though antisemitism lives on, the federal halls of power are by our side in this battle combatting it.
---
Related Resources: